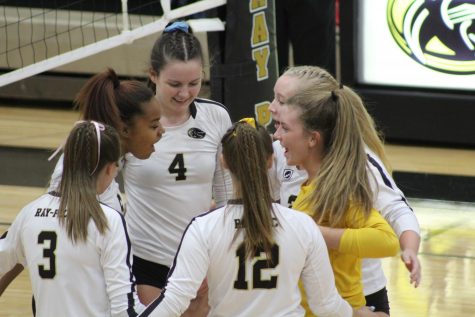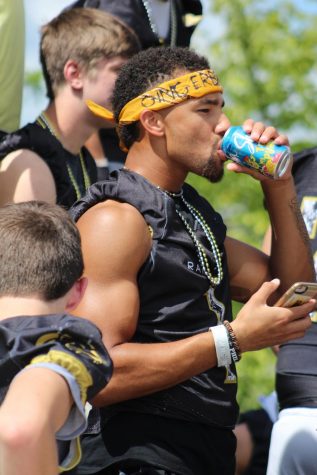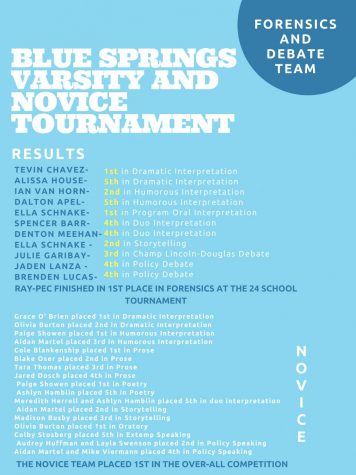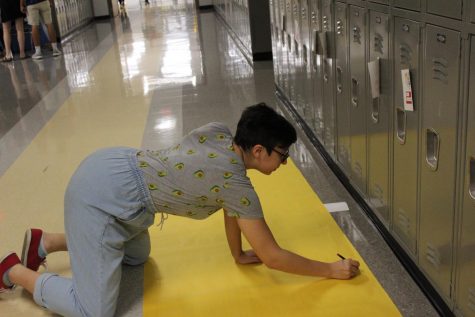 Grace Rogers, Yearbook Copy Editor
September 18, 2018
 Snip. Cutting out paw prints, senior Bela Gardner...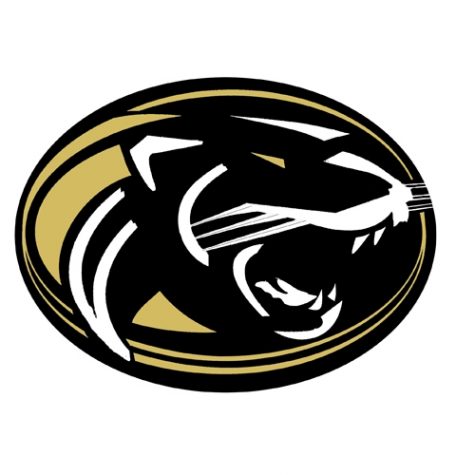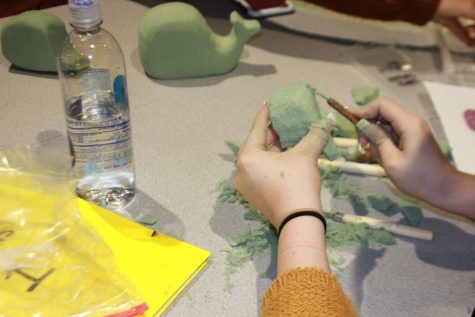 The PSAT test will be given on October 24th this year. Spots are limited, so sign up early!
For those Seniors wanting to take the ASVAB on October 24th, please sign up with Mrs. Speer in the counseling office.
Attention Seniors - The next Adulting 101 meeting will be Friday, October 26 during Panther Time. Come for a snack and to continue talking about finances and what to do when you're looking for an apartment.. Contact Mrs. Columbatto in room 308 for details.
On November 10th, Student Senate will be conducting the 12th annual Men in Tights Tournament from 9-2. Sign-ups will open October 1st and will be due by November 2nd.
For anyone interested in joining the Girls Swim and Dive team, there will be an informational meeting in Room 609 during Panther Time on Friday, October 12th.
Attention FBLA - There will be a meeting Wednesday, Oct. 17 during Panther Time in Ms. Clark's room - room 909.
Attention any athlete that plans on participating in a winter sport. Practices start at the end of the month and you need a physical on file in order to participate. Please make appointments now to get that done or check with the athletic office to see if you're in good standing.
Attention all students! The Veteran's Day Breakfast is quickly approaching! The breakfast will be held on November 9th in the patio commons. It will start promptly at 6:45 am and will run through first period, ending at 8:14. If you have a veteran (family, friend, etc) that you would like to invite, check you email with a link to the google survey form to sign up!! Due to RSVP necessities, the deadline for filling out the form is October 26th, and invitations will be sent out by November 1st. We hope you can attend!! If you have any question or concerns feel free to contact CeCe Moss!!
The Marching Pantherettes are calling all Drummers and Dancers, males & females to join our club.
The Marching Pantherettes is a drill team club. We will show you steps, marching techniques and everything you need to learn to be a Marching Pantherette. Our next club meeting will be held on Friday, October 19th at 3:00
Saturday was the West Central All-District Honor Choir in Oak Grove. As a part of the event, selected Juniors and Seniors auditioned for the All-State Choir. For the 30+ schools in the West Central District, there are only 24 spots in the All-State Choir. This includes 4 for each voice part and 2 alternates. This is the highest honor a singer can receive in the state of Missouri.
Please share your congratulations with the 8 members of RPSINGS selected! This is a new school record eclipsing the 6 singers selected in 1998.
Selected singers include:
Sopranos - Becca Bessette, Kylie Hansen and Alternates Chloe Coons and Tayler B. Bates
Alto - Katie Clewell
Tenor - Gabby Sharp and Alternate Samuel Reicher
Bass - Matthew Stewart
In total, RPHS has 1/3 of the All-State choir available in the District. Members of the All-State choir will represent our school in January at the All-State performance.
The Spanish Club is selling Pulsera Bracelets during lunch please stop by and check it out.
Beginning October 17th, Mrs. Snyder will be sponsoring a Crochet Club. We will meet every Wednesday during Panther Time in Room 720. In our first meeting we will discuss supplies and projects. Bring your ideas to the meeting this Wednesday, during Panther Time, in room 720. Hope to see you there!
The 13th annual faculty basketball game is here! Come out and support all of your favorite teachers on November 6th. Girls game is at 6 and the guys game is at 7. All profits will be donated to the MDA foundation
FBLA will have a meeting during Panther time this Wednesday in Mrs. Clark's room 909
This has been your daily announcements and remember, it's a great day to be a panther!

Loading ...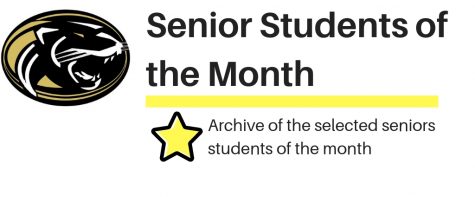 October 16, 2018 • No Comments
October Rotary: Shane Martin Becca Bessette Optimist: Trent Oberlander Kamryn Martin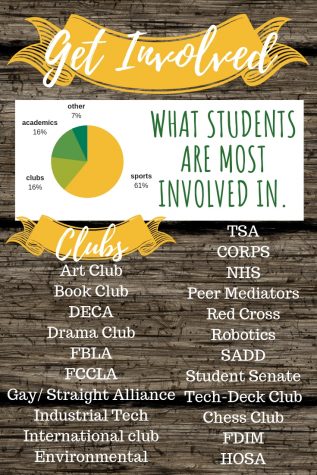 October 15, 2018 • No Comments
Filled to capacity:  juggling a plateful At the start of a new school year, old participants and new members join a variety of clubs to catch a different glimpse of school...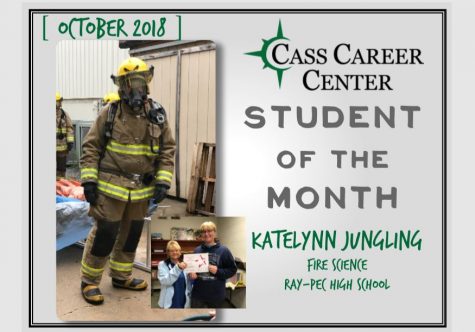 October 10, 2018 • No Comments
Cass Career Center Fire Science student senior Katelynn Jungling was recognized as the October Student of the Month at the CCC. "Katelynn is the consummate professional...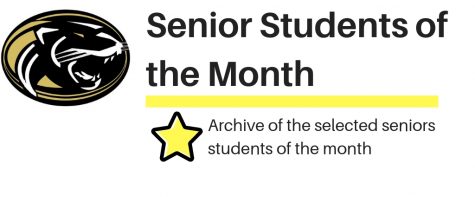 October 16, 2018 • No Comments
October Rotary: Shane Martin Becca Bessette Optimist: Trent Oberlander Kamryn Martin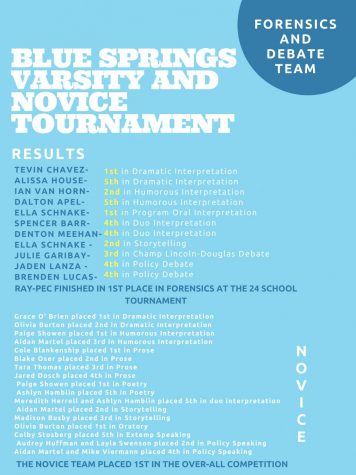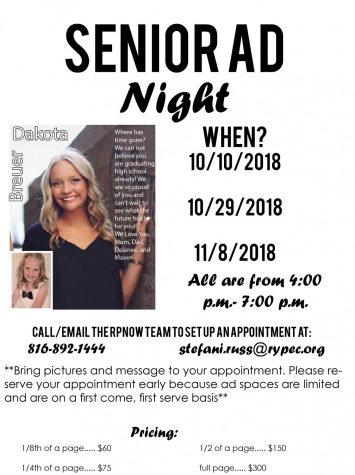 September 12, 2018 • No Comments
The yearbook staff offers friends and family of seniors to purchase a senior ad in the back of the yearbook.  Attached you will find an informational sheet regarding...