Commitment to the Future
Senior, Jaidyn Doss has had a very successful high school football career. He has been a great teammate and leader. Many younger players look up to him and his talents shine on the field every game.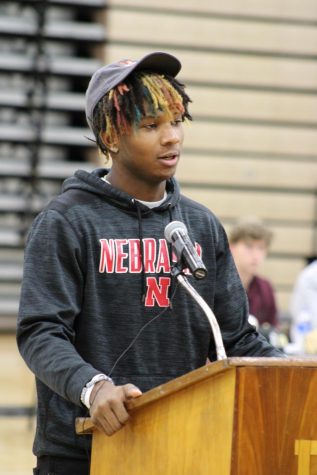 Since this year is Jaidyn's final year playing high school football, many ask the question. Where is he going to play college football? Jaidyn Doss has decided to accept a scholarship to the University of Nebraska. Playing Division 1 football is very challenging and Jaidyn Doss is up for that task. Jaidyn has reasoning on why he chose Nebraska over the other schools.
"After long talks with my coaches and family members, Nebraska just sat at home with me. Out of all the other schools they pursued me more and gave better interest and a better vision of what my future would look like," said Doss.
Nebraska is the next step for Doss, but it's important to remember where you came from, and Jaidyn is very thankful for his high school football experience.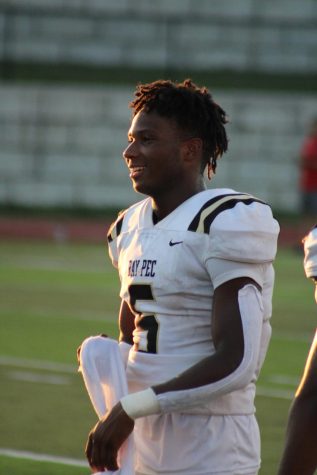 "It's been a great experience coming to Ray-Pec. Freshman year was fun with the class I had. Sophomore year was great playing on varsity and the group I had around me winning state. And overall my high school football experience has just been a blast and I'm just ready for the next level," said Doss.
In high school sports most of the athletes have great relationships with their coaches. Doss is one of many students that had a great relationship with his coaches. Jaidyn thanks his coaches.
"I'd like to thank coach Harrison, coach Janes, my offensive coordinator, and last coach Martin," said Doss.
Doss has had great relationships with his coaches over the years. Since his high school career is almost over he is looking forward to what is to come next. Jaidyn shares his excitement on committing to Nebraska.
"I'm looking to get ready to get into my college dorm. But it's going to be a big step, but I'm going to have to adapt to it," said Doss.
With it being Doss's last year, he looks back on the memories he has from high school football. Jaidyn says what he will miss the most about high school football.
"Practice, the practices are hard but it's what makes a player who he is," said Doss.
Doss has had great memories from playing high school football, but once the season is over it's time to move onto the next step of playing Division One football. For Jaidyn his goal at Nebraska is to make an impact as fast as possible. After he leaves the football program this year many wish him luck in the next part of his football journey.