Brains Over Brawn
The scholar bowl team has been preparing all season for the tournaments that will make or break their entire season, and will determine whether they can make it to state.
Scholar bowl is an intellectual sport for high schoolers. Students compete with other schools to see who can answer the most trivia-like questions correctly. Assistant Coach Kelly Logan talks about what scholar bowl is.
"Competitive trivia on a jeopardy level in high school," said Logan.
Many different schools come together to answer questions, all of them striving to win. Students answer questions on all different topics and see who can buzz in and answer first to earn points for their team. Sophomore and team member Jonah Craig talks about competing.
"It's kind of stressful, depending on who you are going against," said Craig.
Students have been preparing and practicing two days a week, and are ready to go into the upcoming tournament and see who ends up on top. Individuals who participate in scholar bowl are all aiming for the same thing: to be able to answer the most questions and fight for a victory. Senior and team member Gabe Cerda talks about his favorite part of scholar bowl.
"My favorite moments are probably at the competitions, just being the first one to answer the questions, because it's always a nice feeling," said Cerda.
All the competitors have a fair shot at answering the questions, but it's all about who can get the right answer first. Team members have a specific amount of time to answer questions, ten seconds for bonuses, and five seconds to buzz in after a toss-up is fully read. Craig talks about how he started his scholar bowl career.
"I decided to start doing scholar bowl in middle school because a lot of my friends were in it, and I had good grades. I was trying to find other things to do to expand my knowledge," said Craig.
The scholar bowl team helps students to get further education on other topics they are interested in, or may not be learning about much in school. It teaches students to pay attention to the little details, because they might help you to answer a question. Craig talks about his strategies to help him learn new things outside of the classroom.
"I write parts of the questions down, so that if I don't know the answer during the competition, I can come back to it later and research it so that I know more about the topic for future matches," said Craig.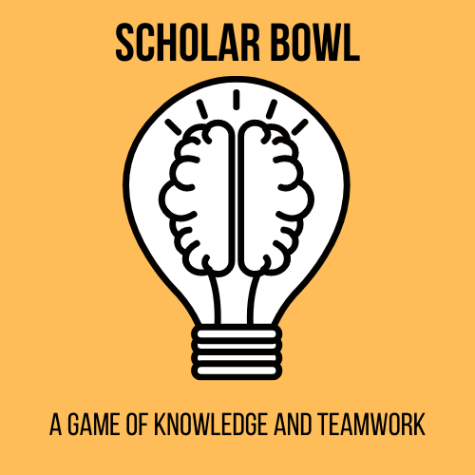 Being part of the team also helps them to build new bonds and friendships with other individuals from around the school that they might not have known before. Logan talks about the things that she gets to experience while doing scholar bowl.
"Getting to have fun, and get to know kids that I don't actually have in class," said Logan.
The team is not only a way to compete to show how much you know, but it is also a fun way to be involved in outside of school activities, and it provides lots of opportunities for you and friends to have fun and make memories. Craig talks about his favorite moment from this year's scholar bowl season.
"My favorite memory from scholar bowl is when we were at the Lee's Summit North tournament, and the round came down to a tiebreaker. I got the question right and we won the match," said Craig.
Scholar bowl is an intellectually challenging sport that pushes team members to become more successful in school. It also helps to create memories and friendships that will last beyond the season's end. The scholar bowl team will continue to strive for excellence and another state title.