Committing for the Future
As the end of first semester approaches, seniors start looking deeper into their college choices.
Senior Luke Voelker, a varsity runner for cross country and track, commits to the University of Missouri to continue his academic and athletic career.
"It's always been my goal to continue my running at the collegiate level. To be able to do it at the highest level of collegiate athletics in arguably the best conference in the nation is that much more meaningful. Being able to continue my career at a larger competitive university validates every second I've put into this sport, and proves that all the effort was worth it" said Voelker.
When someone chooses a sport, they usually have many reasons why they decided on that one and it may take a lot of commitment. It isn't always just because it might be fun but there also may be a lot of thought put into what tags along for that sport and there could be stress involvement.
"I've been running cross country and track since my 7th-grade year, so six years now. I'd say I've only been really trying to be good at running for the last four years though. It took until high school for me to really commit and get any good. I was pretty bad in middle school honestly, a lot of the guys on the team now stomped me consistently back then. I think that running in college will be less stressful than high school at the beginning because I'll have more teammates that are my skill level. I'll be another runner in the pack as opposed to being a bit above the rest in high school. However, there is added stress knowing that my college finances depend on how well I run. That adds some extra prerogative to perform well" said Voelker.
Feeling negative towards something you love, especially a sport is a typical response from people.
"I've felt stressed about running lots of times. There are a lot of expectations of me to perform to the best of my abilities, for my team, my coaches, and my family. I deal with that pressure by just knowing that as long as I put forth my best effort it'll be fine. My best effort is usually enough to get the job done, and if it isn't then I need to get back to training and get better. I've had my fair share of failures in running. No matter who you are there will be days you screw up. This year one notable instance for me was at the Gan's Creek Classic. I got beat pretty solidly by a lot of people and placed 30th. After that race, I was very disappointed with myself. Cross country is really simple in that when you mess up you can't blame anyone else. I wasn't very tough in that race, and that showed itself. I coped with that by promising myself to remember the negative feelings I had during that race, and think about those feelings before every workout and race to make sure they never happen again" said Voelker.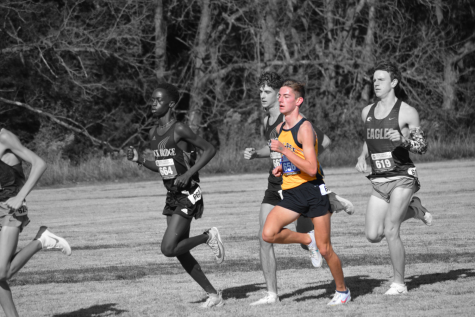 Part of doing well and enjoying a sport is the encouragement from teammates and family. That support from them helps bring positivity and makes it way more enjoyable.
"My parents definitely inspired me to start running, they were both collegiate runners so they know all about running and what it takes to be good. My favorite thing about cross country and track is definitely my teammates. I love the culture that our program has. It makes it a lot of fun to go out and give effort every day. I think we have a really good team culture here at Ray-Pec and support each other by just always being there. We spend a lot of time together while running and at practice, so there's a lot of time to talk and bond with each other. I'm not saying there aren't little conflicts here and there, but by and large, the majority of the team finds a way to have positive relationships with each other" said Voelker.
Jamin Swift, boys varsity cross country coach explains his feelings about Luke and what college will be like for him.
"Luke is a hard worker, a leader and he is motivated. He leads by doing, never complains, and encourages his team. Luke will leave a legacy for the school with being a school record holder for the 3200 in track and the school record holder for cross country. Luke is also a member of the 2019 state championship. He works very well with his teammates and I believe Luke will use his leadership skills towards others" , said Swift.
Being a coach takes more than just simply showing up to practice.
"As coaches, we put in whatever work and time it takes for our athletes to reach their goals. If their goals are lofty (which they usually are), that often means volunteering extra hours all winter, all summer, and being here for our morning practices. Our staff is awesome and will do whatever it takes" said Swift.
Teammates being a big thing for Luke, Khuram Choudhry talks about his friendship with Luke and being on a team with him.
"Seeing the best of the best run and knowing that this person is on our team and is one of my best friends just inspires me to work better. He gives really good speeches before races and workouts. Knowing he can work hard and get to where he inspires us to do our best and he also literally leads us since he is the fastest person which also works pretty well. Luke probably has the best work ethic that I've ever seen. He runs all 7 days, continually runs the furthest(typically alone because he is so fast), and always just works hard. Everyone aspires to be like Luke, so we try to run all 7 days as well. We joined in running doubles on weekdays as well because he did. Luke will fit into college just fine and will most likely excel. Luke is just a very charismatic man that draws you to him. It's hard to not like him. He'll probably become a leader once again like within high school" , Said Choudhry.
When choosing a university there are things to take into consideration. Things like what the school is like or different benefits that the student choosing that university will gain.
"I chose Mizzou because it had everything I wanted and more. It has the degree I want, world-class facilities, a recently built three million dollar cross country course, a team that I love, and a fantastic coaching staff. It doesn't hurt that I've been a Mizzou fan all my life. In my baby pictures, I'm head to toe in Tiger gear. My mom ran cross country and track at the University of Missouri, and to be able to continue that legacy is amazing" , said Voelker.
Luke has been preparing for this moment his whole life. Now that the time has come, the next step is graduation and then off to Mizzou in fall 2022.