2021 Cheer Regionals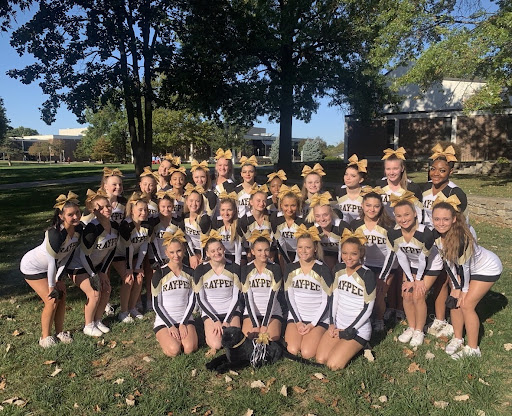 The time that the cheerleading team has put in paid off this weekend. The varsity and junior varsity team headed to Avila University October 16-17 to perform in the 2021 cheer regional competition.
"Our team has a motto 'nothing more and nothing less' that basically means that we just do what we do in practice we'll achieve success", varsity cheerleader freshman Reagan Sheedy said.
Led by head coach Meagan Speer and jv coach Courtney Graham both teams placed and received a bid to state. The cheerleaders have put so much work into this program and so have the coaches.
"Preparing a routine that we have been practicing since July", Speer said.
The cheerleaders have been determined to do well. The coaches have also worked hard because they had to work with an inconsistent routine because of quarantine.
"Part of what makes stunts so successful is the ability to make it consistent by having repeated practices. With Covid we have to be flexible to changes in stunt groups", Speer said.
The cheerleaders were so excited to finally be on the court again. Due to Covid regionals not being in person.
"For regionals I am looking forward to finally being able to step onto the mat after two years of not knowing if I will ever be able to compete in person for Ray-Pec cheerleading because of covid," varsity member senior Alivia Bently said.
Even though the team has struggled due to Covid they still managed to dominate at the competition. Varsity got first and jv got third. Both teams received a bid to state.
" We did outstanding on Saturday, our energy was so high and all I felt was positive vibes and we had this hunger to win and that's exactly what we did," Sheedy said.
Both the jv and varsity cheer team will head to state this season. State will be in December of this year.
"I love coaching for Ray-Pec. The assistant coach and I are both Ray-Pec Cheer alumnis", Speer said.
What makes the cheer team successful is their positivity. The team is also led by two former cheerleaders. They know what it was like and fuel the girls to compete. The seniors also make a big impact on the team.
"Yes, we have to do a lot of behind the scenes work and we have to decorate for homecoming and we have to figure out everything from what we will wear for games to what events we need to show up too," Bently said.
The seniors make sure to hype everyone up during practice and competitions. They do things that people may not notice and recognize and they don't get a lot of attention for it.
"As a senior we make sure to tell them how amazing they are even after a hard practice and we like to talk to our groups and keep them positive because this year is new for a lot of the new girls and it can be very overwhelming", Bently said.
The energy on the team helps them bond with each other. Bently experienced a very positive environment which helped them succeed in the competition.
"Coming onto a team where everyone is so close is hard, you have to form new friendships however there have been people who welcomed me and taken me as one of their own and I really appreciate it", Sheedy said.
Sheedy feels that even though the other girls have known each other longer, they still make her and all the other new players feel welcomed.
"I think we did very well considering there are a lot of newbies on the team who have never experienced competition before and I think they handled all of this stress and adrenaline very well", Bently said.
They handled the stress with the help of others, this sport really is a family. The school and the coaches are so proud of how they performed at regionals.
"I think one can only do the best they can do any given day and I did give my all" Sheedy said.
They showed off what they have been working on, pushing through the struggles of Covid and are now on their way to state.