Anatomy: Dissecting the Class
Anatomy class is a very interactive class offered to juniors and seniors.
This introduces students to many different career options and helps them with decisions about their future.
"Students who take Anatomy are usually interested in careers in nursing, physical therapy, sports medicine, veterinary medicine, or other careers in the medical or animal science fields. This class can either help solidify those interests, or it may help them realize that they'd like to take another path," said Anatomy teacher, Megan Walker.
This class is also helpful if you don't want to pursue a career with anything related. It can help you with your day to day life.
"The body is fascinating and learning more about yourself and how your body works is relative to anyone and makes us able to make better decisions about parenting, eating, exercising, etc," said Anatomy teacher, Paul Caravan.
There's different reasons why these teachers enjoy teaching this class because of the dissection.
"I LOVE dissecting the cats. If I could teach dissection every day it would be the ideal job for me," said Carvan.
These teachers try to pass on the elements of anatomy that inspired them to teach it in the first place.
"I had an amazing Anatomy and Physiology professor in college. He made the subject incredibly fascinating and fun, which I try to pass on to my own students now," said Walker.
Students have fun with many different parts of the class but enjoy some more than others.
"One project the students seem to have fun with is the skin model project. Students make a 3-dimensional model of the layers of the skin, and they can get as creative as they'd like. I get all sorts of submissions–huge dioramas, intricate and life-like models, themed models, edible models, and even wearable items like hats!" said Walker.
This class can be quite fulfilling and prideful for students too. Students get to do something that is very impressive.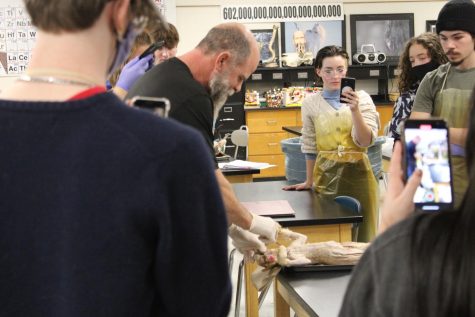 "Students gain confidence by attempting and succeeding at mastering a new skill. Most students are intimidated by the dissection process and are nervous about making a mistake. However, the best way to learn is by doing, so I always encourage my students to take risks and not worry about making mistakes. Students are quite proud of conquering something intimidating, and seeing their confidence grow throughout the dissection process is incredibly rewarding as a teacher," said Walker.
This class helps prepare students for the future in many different ways, especially if they want to continue after high school with something in the medical field.
"Once you get into anatomy I hope you would realize the fascinating aspects of the body and how cool some of the things are that the body can do and how it works. and that hopefully motivates you to learn more. Health fields are growing and make great career paths right now. Not only are these really good paying jobs but you get the satisfaction of making a difference in people's lives as you help them. It can be a tough job at times but rewarding also along the way," said Carvan.
Anatomy is a class that is interesting to many and a unique class taught by passionate teachers. If you would like more information on this class please contact your counselor, [email protected] , or [email protected]