Juggling a Job and School
Working a job while in high school is not an easy task.
Students are constantly working on school work, working often, and trying to have a social life. Marketing teacher Kim Schrader leads COE, an organization that works with students who need to work during the school day. Many students take half days to help their work schedule.
The internship can be very helpful for the students, for it takes away the pressure of other extra classes.
Most students are in school for 4 blocks of the day and then when it says RP internship on their schedule they can go off campus, They just need to make sure they get the right hours every week" said Schrader.
Schrader loves working with the students in the program. She talks about how she got the job.
"I fell into it. My dad was a marketing director and basically led the same thing. I started teaching business ed and there was a position that was vacated for COE. Before the covid years it was cool to go see kids work and see them in a different light that isn't the classroom" said Schrader
Schrader explains the importance of students working in highschool. She believes that all high school students should work at some point if it is an option.
"I think it teaches them responsibility, it teaches them about money, it's what they are going to be doing for the next 40-60years of their life." said Schrader
Senior in high school Amelia Randell works three to four hours a week. And six hours on the weekends. She enjoys her job and it does not affect her school life.
¨Yes, I love working, I get to watch little kids while making money. I prioritize my schoolwork and do my homework during breaks to prevent stress¨said Randell.
Although the half day and not taking as many classes may seem easier it still gets stressful. Kayden Stosburg, a working student in RayPec agrees.
"I am definitely more stressed with grades and stuff because I don't have as much time to do homework. My grades right now are not that bad but I struggle to keep up while doing both work and school."said Stosburg.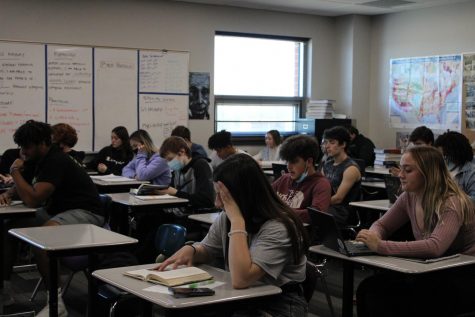 Working as a student even with the internship isn't always perfect, there are a lot of negatives.
Schrader explains how the hours someone works makes it harder for them to balance school and their job.
"Working can get overwhelming when working many hours. I realized some kids have responsibilities at home that make them work more than I think they should, which is really sad because working too much can be detrimental. There aren't enough hours in the day"-said Schrader.
Working a lot of hours can be hard for teenagers. The average amount of sleep a teenager should get is around 8-10 hours; when working it can be hard.
"I go to school for 20 hours a week and I work for 20 hours a week so it can feel like a full time job, I get nowhere near the amount of sleep I should get."-said Stosberg.
Students are working hard to meet the goal of managing their time with their jobs and schoolwork. The program benefits the students by taking off some stress while teaching them responsibility and management skills on how to balance a job while being a student.