A Season to Remember: A recap of the freshmen boys basketball team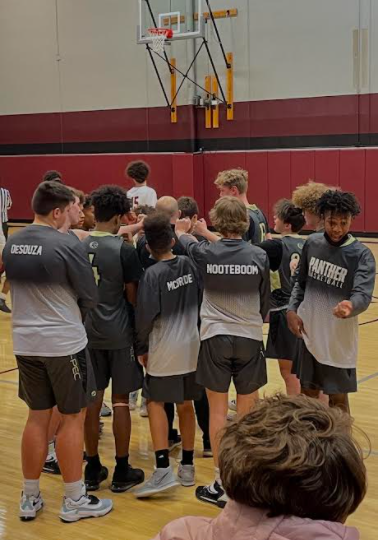 The 2021-22 freshmen basketball season was one to remember. These kids worked early mornings and late nights to create a team that demonstrates unconditional accountability, teamwork, skill, and focus.
Being together all the time creates friendships that will last a lifetime. " I get a lot of support on the court, like with people helping and telling me what I do wrong and supporting me when I score," said Freshmen Player Trevor Hanlin
With so many kids out for COVID, occasionally the JV team will need to take people to play up. Because one person can only play so many hours a week, they might have to sit on the bench for freshmen. When watching the freshmen play without him, Freshman Player Elijah Watts said, "It's kind of hard and exciting to see what they can do without me being there".
The freshmen team went undefeated for over half of their season. They suffered two tough losses recently. The team took this to heart. "It felt horrible," said freshmen player Terin Nickles.
Coaching freshmen isn't an easy job. Dallas Lybarger accepts the challenge each year to take young eighth-grade boys and merge them into a high school team.
"They have moments where their effort is low. Even though they play pretty hard most of the time, there are still those times when they need lots of encouragement and motivation to get their energy level up" Lybarger said.
The jump from middle school sports to high school sports can be rough, practices especially. "Practices are a lot of learning and running," said freshmen player Austin Robinson.
It's been tough to have such a good record, the team has fought for their wins. There were a few close ones.
"Our home game vs Blue Springs South. We were down going into the 4th quarter. We started to press and completely turned the game around. We held them to 5 points in the 4th quarter and ended up winning by 8," Coach Lybarger said.
There are of course some rivalries with schools near us. Beating Belton was a big highlight for the boys this year. For some, it was their favorite memory of the entire season.
"It was the Belton game because they are always talking trash on us" Robinson said.
Working hard during off-seasons is also extremely important. "I go to the gym daily," said freshmen Player Paydon Owens.
All players deal with pressure differently. It's hard not to let it phase you when you know all eyes are on you. "I just try to stay focused on winning the game," Hanlin said.
Above all, Coach is extremely proud of the team he's assembled this year. "They have worked very hard to be successful. The season as a whole has been very memorable"
Everyone is curious to see what kind of varsity team the class of 2025 can become.