Sophomore Patrick Martin pursues wrestling with an injury
Playing a sport can be dangerous, but it's just another part of partaking in something that you enjoy. Sophomore Patrick Martin has been a varsity high school wrestler for two years, and he recently sustained an injury that put a pause on his wrestling career.
Sustaining an injury could cause you to become discouraged, but Martin didn't let this stop him from staying involved and in shape. Martin suffered from a dislocated elbow and a tear of the ulnar collateral joint, also in his elbow. Wrestling coach Brett Barbarick talks about how Martin pushed himself to stay active.
"He showed up almost everyday and rode bike and listened. He was doing physical therapy as well, which is a workout in and of itself," said Barbarick.
Even though Martin was trying to stay in shape for himself, his teammates were missing him on the mat. Just like he supported them, his teammates worked to encourage him throughout his injury. Barbarick explains what the team missed most while Martin was injured.
"He's a good wrestler and wrestling is really predicated on how hard you're willing to work in practice. So not only did we miss him on the mat wrestling, but we missed him as a workout partner and helping the rest of our team getting better," said Barbarick.
Martin pushed through his elbow injury to stay present with the team. However, things just weren't the same because he wasn't able to participate. Great teammates stayed by his side and helped him to work through a tough time. Sophomore varsity wrestler Gavin Birkett, Martin's teammate, talks about something the team did for Martin to lift his spirits.
"Some of the guys on the team helped console Patrick with his journey through recovery by purchasing him protein powder. Patrick really likes protein," said Birkett.
The team also missed the energy Martin provided on the mat. Being a team means that everyone pitches in to help, which was something that Martin excelled at. Birkett talks about what he did to improve the team overall.
"Patrick serves the team in a multitude of ways, like being a great teammate on and off of the mat. Patrick helps each wrestler to build a healthy foundation to become a great wrestler. Demonstrating that consistency leads to success, and refining his style while never being satisfied. This hunger is instilled in each wrestler because Patrick has an intensity like no other, especially on the bike," said Birkett.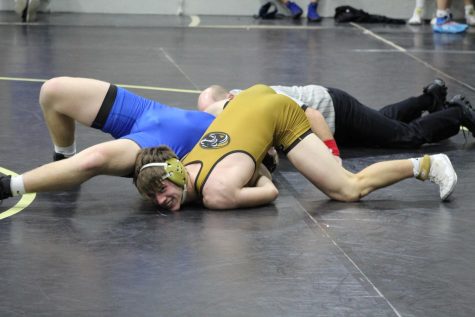 Although everyone worked to create a positive atmosphere, being faced with an injury can cast a light of negativity on the rest of the season. Despite this, Martin refused to give up his hope. Martin talks about how he felt initially about the injury, and the things that he did to participate, even while he couldn't play.
"I was obviously crushed hearing about my season potentially ending but I just had faith that we could find a way to recover and salvage what's left of my season. I still attended practice everyday while traveling with the team for every tournament. I also would spend time with teammates out of school and practice to reinforce those bonds," said Martin.
Having a dislocated elbow meant that Martin was not allowed to move his arm and he kept it in a brace for a couple of weeks. Going from practicing and playing your hardest to having to stop completely is a rough transition, and Martin had to do a lot to come back from it. Martin discusses his routine for healing.
"I had to go to physical therapy two to three times a week along with cardiovascular training while I was at practice to keep my endurance," said Martin.
After getting the all-clear to return, Martin was excited to participate. Returning to the mat was something that he looked forward to, but he also had to remember that he had recently been injured. Martin talks about how he returned and what he had to watch out for.
"Whenever I was about to return, I just focused on going at my pace while paying mind to the fact that I've lost time," said Martin.
Returning from an injury is a long process, but Martin made it and successfully came back to wrestling. However, he has recently had a flare up from his past injury and is taking things slow. Martin's team and his coaches have his back in the road to recovery, and are awaiting his full return to the mat.