Giving Back During the Holiday Season
The holidays are known for being a good, fun time to spend with your family and friends. But, not everyone is as fortunate to have that. To help, there are many ways we could give back to help them feel better.
"During the holidays, my family and I donate to Adopt a Family and Operation Christmas Child," said Junior Abby Hellums.
Not everyone knows about these organizations, so it's good to know what you're donating or volunteering for.
"For Adopt A Family, you just buy gifts for a family in need then bring them back (to my church is where we do it) then the church gives the family the gifts anonymously the family so the parents have necessities such as underwear, socks, shoes, and winter coats along with toys to give to their children on Christmas morning," says Hellums.
A lot of organizations work similarly when it comes to giving back, and the routines they use.
"With Operation Christmas Child, you take a shoebox and there is a list that tells you what to put in the shoebox. Then Once you get the items you bring back the shoebox with the items in it to where you got the box from (for me it's also my church) they get packaged and brought to poorer countries for kids so they can get a present for Christmas," said Hellums.
People in our area donate to the same charities. The more donations a charity gets, the more the families will feel blessed.
"I always try to participate in adopt-a-family drives. Usually, this is through the school or through organizations that reach out for help, but it feels good to get to buy supplies or fun presents for families who might not have a super exciting holiday season," said English teacher Haileigh Thomspon.
It's not always giving back that helps people get through rough times during the holiday season. Sometimes, it just takes good vibrations and kindness.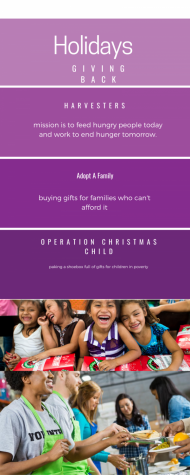 Thompson says, "I also try to go through the holiday season with a positive mindset – it is such a busy time for so many people in the service industry, and as someone who used to work in restaurants, it's always a really tough time of the year because it's so chaotic. So, I always try to be overly kind, helpful, and generous to anyone I meet in retail or service throughout the holidays."
There are so many other ways we can give back through the holidays. It doesn't have to be through an organization.
"I volunteer at Harvester's. We usually go out on Saturdays and pass out food to people in need," said retired entrepreneur Cynthia Garrett.
Garrett says, "I volunteer money to charity when I go to the store and checkout sometimes. I also volunteer to give out food and water at my church."
You don't always have to give back through a charity or organization.
"If I see a homeless person, I try to maybe get them some food from a nearby fast-food restaurant, or at least some water," said Garrett.
I'm sure there are many more ways to help the less fortunate. This holiday season, try to help a family out. Set an example for others. But most of all, be kind.