Helping the Community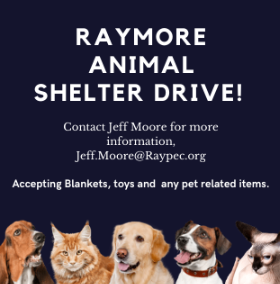 Every community needs the support and help of the people surrounding them to provide for the more vulnerable. The local Raymore Animal Shelter seeks help from anybody who can donate. Helping the shelter this year are members of the community service committee.
The sponsor for the service committee is Jeff Moore. Being able to provide help wherever is needed for those in need brings the community together as a whole and furthers their success in the future.
"We wanna help out the local community and give back. During the cooler months there is a lot more need at the animal shelter because they are more vulnerable in winter," said Moore.
The shelter could always use help with their supplies to provide the best environment for their animals but more attention must be given when the cold season comes in. Senior Bailey Roe is a member of the committee and sheds light on the impact the donations have on the shelter.
"It would make it really difficult in the wintertime with all the animals coming in and it lifts the burden," said Roe.
Anyone is welcome to give their time and donations to help the shelter. The committee's main goal is to provide help to anyone in need. The chair of the organization, senior Amarah Slatton has a passion for what she does.
"I am involved with the drive because I am chair of the community service committee and personally helping people is what makes me happy and it always has," said Slatton.
With Winter just around the corner, the Raymore Animal Shelter needs all the donations they can get. Reach out to the community service committee to find ways to help the shelter or other organizations to take part in the district's success.