Kelce V Kelce: The Kelce Bowl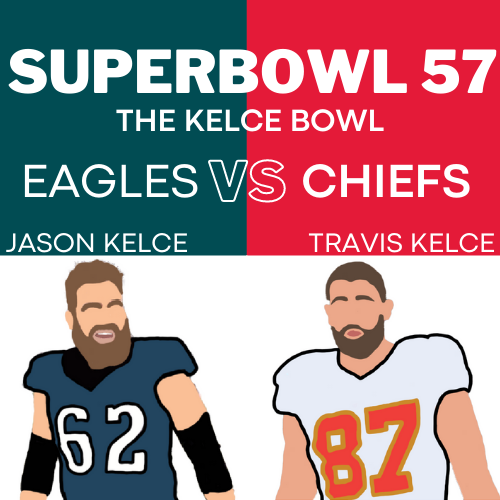 On Sunday, January 29th, the Kansas City Chiefs beat the Cincinnati Bengals with a field goal of 23-20. Later that day, the Philadelphia Eagles put up 31 points against the Sanfrisico 49ers who scored 7 points. This sent the Eagles to play the Chiefs in Super Bowl LVII.
With 56 previous Super Bowls, Super Bowl 57 will be unique from the rest. For the first time in NFL history, Travis Kelce and Jason Kelce will be the first brothers to play against each other in the Super Bowl, taking brotherly rivalry to an entirely new level. Fans continue to go crazy over the brother's face off and because of this, Super Bowl 57 has been given the nickname: The Kelce Bowl.
The older of the pair, thirty-five-year-old Jason Kelce, who is a center for the Eagles, will face off against his younger brother Travis Kelce, who is a tight end for the Chiefs.
Although the two play for different teams the Kelce brothers are still close and have a podcast together called New Heights, which can be watched on multiple streaming apps including Youtube. Travis and Jason started their podcast back in September of 2022, posting weekly videos every Wednesday.
One of their newest additions to the show, titled Championship Sunday, Jabronis and The Kelce Bowl / New Heights / Ep 25. aired on February 1st, which highlighted their upcoming face-off in Super Bowl 57.
"I said this week I am no longer a Chiefs fan Trav, sorry to bring it to you. I officially took my true colors Chiefs sweatshirt off immediately after the Butker kick. My fandom is closed for the next two weeks," stated Jason Kelce.
The Kelce brothers look at "The Kelce Bowl" in a different way than most would expect. Some would think they would trash-talk one another yet they choose to be supportive.
"Which is wild and kind of surreal, I feel like I've been getting asked this question my entire career, ever since I've been in the league. What do you feel if you play your brother in the Super Bowl? And my entire time I've been like I mean that's been the goal," stated Travis Kelce.
Although the goal for every NFL team is to make it to the Super Bowl, the brothers were faced with the unexpected: they will face off against one another. During the episode, Jason asks Kelce: Why is the goal to play me in the Super Bowl?
"It just sounded cool and felt like that's what I wanted but now it's like I don't know man. Somebody's got to send their brother home man," said Travis Kelce.
Still shocked by the chances of The Kelce bowl even occurring, the Kelce brothers look at some numbers.
"It's got to be something like a lottery pick probability, right? Like should we've been playing the lottery? Were we playing the lottery this whole time? Did we just win the Mega Eight?" said Jason Kelce.
Jason and Travis Kelce were not the only ones who won the "Mega Eight." As both of Ed and Donna's sons are professional football players, they support both of their boys by wearing custom-made half-and-half Chiefs and Eagles jerseys. With Super Bowl LVII, there is no winning or losing and Ed Kelce can not and will not pick a side when asked who he is rooting for.
"Kelce. Kelce. Kelce. We will be here all day if you're trying to get that," said Ed Kelce.
With every Super Bowl, there will always be one winner and one loser, but for Travis and Jason's parents, not this year.
"I have already won dude. I am on the most popular podcast in sports. I've already f*****g won, okay?" said Ed Kelce.
When looking at more numbers, the Philadelphia Eagles are favored to win Super Bowl 57 over the Chiefs: "The Philadelphia Eagles are the favorites to win in the matchup, but it is expected to be a tight contest as the spread is just 1.5," (Hennion).
Although the brother versus brother faceoff will set Super Bowl 57 apart from the previous 56, the Kelce brothers ask their podcast viewers to stop calling Super Bowl 57 "The Kelce Bowl," and instead refer to it as the Chiefs and Eagles Super Bowl. Jason and Kelce believe it is important to recognize all of the guys and major organizations that will be involved in 2023's Super Bowl. Super Bowl LVII will make its mark in history, and fans all across the country will gather together to watch the event on February 12th. Which brother are you rooting for?