A Club With Pride: Ray-Pec GSA
Ray-Pec's GSA has banded together to provide a safe and judgment-free place where members can confide in each other. The club also takes part in service projects to help better the community.
Junior Tara Thomas is the club's new president. She has been with the club since her sophomore year and has taken it upon herself to lead the club in their discussions and activities.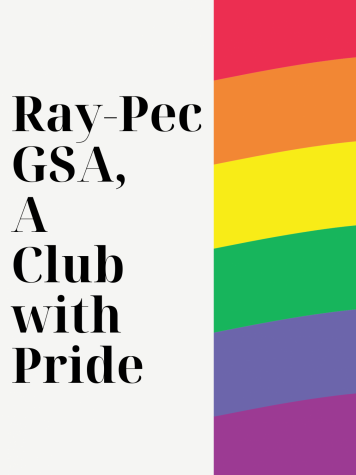 "I was introduced to the club my sophomore year and instantly loved the mission of the club: to create a safer and more knowledgeable community at Ray-Pec and abroad. I wanted to lead because I feel as though the club does so much good, and I wanted to be involved in the change," said Thomas.
The club sponsor, Brett Beneke, has been with the club since former club president, Mrs. James, retired. He enjoys being able to give students a space where they can feel safe and express themselves freely.
"When Mrs. James retired a few years ago, she asked if I would be interested in taking it over. I agreed because I think it's valuable for this and every school to recognize and respect the lived reality of the people in it. No one should have to walk around thinking they're invisible or unwanted, and getting to help establish that sense of place for others is important to me. I'm lucky enough to have never needed to justify who I am to the world around me, and I don't think other people should have to either just because they are different than I am," said Beneke.
Freshman Natalie Kies is another invested member of the club. She came to the club looking for a place where she could talk to other people about similar events they may have gone through throughout their lives.
"After going through middle school, being pretty alone with a lot of struggles related to my sexuality, mainly bullying and harassment, I really just wanted a community that I could talk to about it all and other issues going on with it, but also the good. I wanted to help other people as well if they were struggling as I've had some experience," said Kies.
Kies has confided and relied on the community and club for many things. It has helped her express the struggles she has been through without judgment. The club has also helped her meet some new friends and build relationships with other club members.
"It's helped me be able to talk about my personal experiences without fear of someone saying I'm overreacting because other people there understand. It has let me talk about issues that I really care about, and I've made some friends in it. It's honestly just helped me a lot only as a freshman, it's definitely something I needed this year with everything that's been going on. With the little projects I've worked on, it makes me feel like I am helping out the community, even if it's just a small section in the school currently and in the coming years. It's honestly just been a great experience," said Kies.
The club helps support people within the community to express themselves, as well as provide a supportive environment for those who are in need of one.
"The club is loosely connected and operates more as a support system for those who need them or as a discussion space so the number of regular club goers varies, we are always happy to have new faces," said Thomas.
The club does more than provide a safe space in the school, it also is a club where members are given the chances to help improve the community through many service questions.
"[The GSA takes part in] discussions, answering questions, and working on how best to improve the community. Right now, we are working on creating an informative "sensitivity training" for teachers to answer questions on how best to be a good, responsible ally," said Thomas.
Among their service projects is a new project the club has been working on; this project is being developed to help strengthen the relationship between teachers and students, allowing teachers to have the opportunity to learn about how to handle situations and better understand some of the daily struggles members of the LGBTQ+ community might face.
"One thing in process this year is a student built guide that will help teachers better understand the nuances of the LGBTQ+ community and make those conversations less awkward for teachers and students. I'm very excited for how that'll develop and positively impact the community," said Beneke.
A project that was previously developed is a logo/graphic design that teachers are able to put up in their classrooms to let students that are a part of the community know that their classroom is a safe and judgement free environment.
"We had talked about creating a logo/symbol for the club that wouldn't be too obvious that teachers could put by their door, and I made it (the Medusa head with pride flag snakes) and so a little presentation to give to teachers wanted to be more inclusive and how to do that ," said Kies.
As well as their many projects, the club is now developing a website to help give more information about the club and help get the information out to students.
"We are working on developing a website and also contact mostly through English teachers who we ask to pass on information to students," said Thomas.
This club is not only for members of the LGBTQ+ community but is also for allies. Beneke, an ally of the LGBTQ+ community, expresses how just sitting down and listening to these students has been eye opening for him.
"This club has made me realize how important it is to be a good ally as opposed to just say "yeah I support equality." I think a lot of people who are genuinely well intentioned, don't really know the best ways to be supportive and need to get comfortable just asking (in a respectful way), and being responsive to the people most impacted by the conversation. I also realized that no one is expected to know everything or get every interaction perfectly, they just need to be open to making those little changes that can make a big difference for others," said Beneke.
The GSA provides a place for members of the community to help each other and help allies be better. This club is highly inclusive and is creating an overall safe environment.