Swimming through a Pandemic
"Swimmers take your mark, get set, go!" Swimming has come to an end for the JV girls, and the sound of competing in races and mingling with their teammates still reminisces in some swimmers' heads. Although the girls have had fun during the season, there have been some difficulties when it comes to the pandemic and the covid adaptations affecting the season.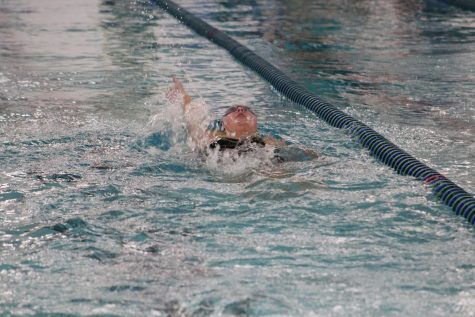 Head coach of the girls swim team, Michaela Parisi spoke about the challenges of having to follow all the new protocols of COVID-19 at swim meets and even at practice.
"Trying to keep all of the athletes safe by complying with COVID-19 protocols is a gargantuan task. Many of the athletes hate wearing masks, and it is a constant battle of "put it on" and "space out," said Parisi.
Parisi also spoke about the inability of the athletes being able to support and encourage their teammates fully.
"At meets, the girls want to cheer each other on and be right alongside the pool during meets to encourage their teammates, but many facilities are requiring swimmers to stay seated in the bleachers unless they are swimming in an event in order to ensure social distancing," said Parisi.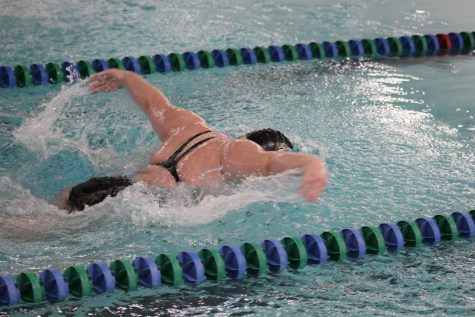 Due to all these protocols, it has also been hard for some of the swimmers to connect with each other on a more personal level.
Junior and swimmer on the JV team, Ella Oldman discusses the difficulties of connecting with other swimmers on the team.
"My least favorite part of the season is how split up JV and Varsity seem to be, it doesn't feel like a team," said Oldman.
Oldman also expresses her disappointment of not being able to be close to her other teammates physically and emotionally.
"It has been hard to connect with other swimmers because of the distance we had to put between us," said Oldman.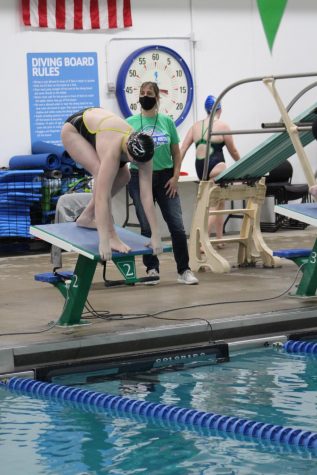 Parisi wishes she would have done more bonding activities if she knew how the pandemic would have impacted that.
"I wish I had organized virtual bonding activities. Sure, we couldn't do events in person, but we could've done virtual game nights or dinners. I wish I had promoted more team bonding activities (in a COVID-safe way)," said Parisi.
Some also feel as if the swimmers could have had a better season if the pandemic wasn't in effect.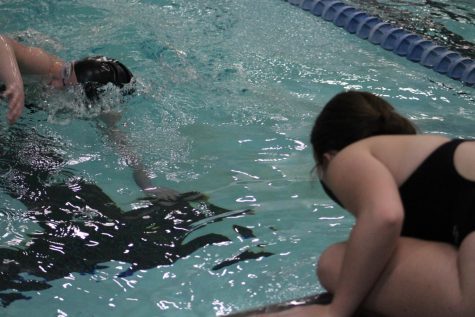 When asked how the pandemic affected the season JV Coach of the girls swim team, Doug Brown talks about how all the quarantining affected the girls over all success during the season.
"Due to a lot of swimmers on individual quarantine and the whole team quarantining, we were probably not as good as we could have been after losing those two weeks and having less opportunities to perform," said Doug.
Sophomore and JV swimmer Ellie Martin also spoke about how the quaranting affected her success during meets.
"I think that if I knew I was going to be quarantined twice that I would have worked harder in the days that I was there since it affected my times at conferences," said Martin.
Although there were some challenges, the girls on the team seemed to handle them well and were able to acclimate to all the different changes.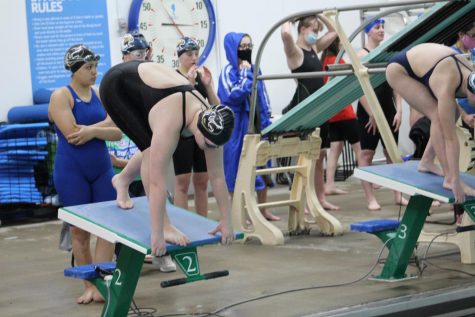 Parisi discussed how the girls dealt with all the new changes and how they tried to keep a positive mindset even with all the circumstances.
"I think many of them have handled the circumstances well. They are being proactive about staying home if they have had potential contact and getting tested, and when they come to practice they are encouraging each other," said Parisi.
Brown also spoke of how well the girls handled the new adaptations, when questioned about how the swimmers handled the circumstances of the season, Brown replied.
"They socially distanced, wore their mask and did everything they were supposed to do without much nagging, they were amazing and easy to work with," said Brown.
With every change to the season, and the pandemic making a huge impact on it, "Overall, they are just glad to have the opportunity to have a season and be with friends, and that has made the season worth it. Even though they are stressed and anxious they show up each day ready to get in the water and do the thing," said Parisi.