Prowlers Competing Virtually
Covid-19 has affected all of the sports, and the Prowlers dance team is no exception. With competition being one thing that has completely changed this year, each one looks a little different, starting with KC Classic. The KC Classic was one of the first virtual competitions that the team had this year.
Competing virtually was very different for the team. For virtual competitions, the team gets together in the main gym and records their two dances as many times as they need to, to get the perfect one. Prowlers coach Cheryl Gray had to plan out the recording process.
"We must find a time to video routines and send them in to competition to be viewed and scored," said Gray.
Although competing virtually is more of a norm this year, the Prowlers also have one competition that is in person, though it looks a little different than normal. DTU is the second competition of the year, and it is being held at Lee's Summit West. While the team will be able to perform their dances in the gym, but there are several modifications to the competition process.
"We do not have any competitions that will allow spectators at this time," said Gray.
The lack of spectators makes it difficult for the girls to be at their full potential because they do not have their parents cheering them on. Senior Lynsy Dimarco explains the rules for spectators during the recording process.
"Parents can watch on the day we record but they can not say anything or cheer for us", says Dimarco.
Dimarco believes that the lack of support on the day of competition could affect the team's overall morale.
"I would say a challenge is definitely keeping motivation as a team because we really don't get to compete in front of people, and we don't get to see the competition we are up against," says Dimarco.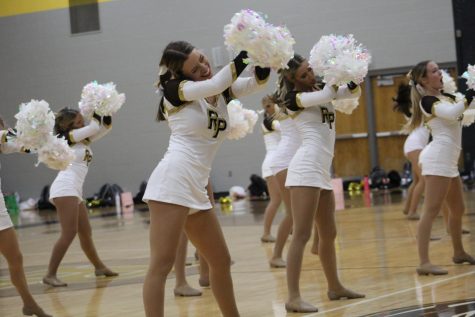 For senior Madi Hocker, virtual competitions are not ideal. Competiting virutally is hard for her as it feels like one more event that she cannot partake in during her last year of high school.
"It honestly hurts that my senior season has come to competing virtually. Your senior season is supposed to be the best one, and while I am upset that we don't get to have as fun of a competition season, I am thankful we still get to compete," said Hocker.
Competition is very different this year, but the team is still putting in everything they have got to compete with the cleanest and hard hitting dances that they can.
"We practice every Tuesday, Wednesday and Thursday after school from three to five! We all wear masks at practice and try and get as much done as we can in those periods of time. Everyone just kind of knows how hard of a year this is, so they know that at practice to be quiet and pay attention because we all want to do well at competitions regardless of the circumstance," says Hocker.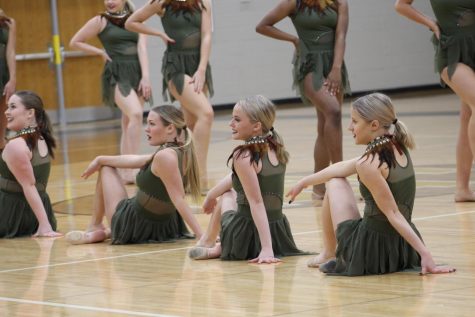 With the team continuing to pursue success this year, competing virtually is not going to get in their way. They are going to try their hardest to gain the spot that they want in their competitions. With two competitions down, the team is elated to see where the rest of the year takes them, with only three competitions left and two dances to perfect.