Personalization of Masks
Going into high school during the COVID-19 pandemic, Ray-Pec has made new rules and regulations to help protect students and staff from the COVID-19, including wearing masks everywhere students go. Even through this time of quarantine, students and teachers find ways to style and create masks to their own personal liking.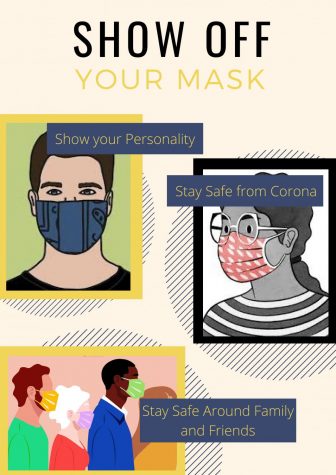 With the start of the school year and the new adjustments students must make due to COVID-19, sophomore Lexi Thomas uses an opportunity she has while wearing a mask.
"You can wear masks that represent your personality or aesthetic. For example, I have a snakeskin print mask because it is cute, and it's more unique than a regular mask," said Thomas.
Students have gotten used to wearing face coverings as the year goes on, making it the new norm while walking throughout high school. Classmates have been facing new challenges while wearing masks."Wearing masks has impacted my life greatly. I've gotten better at speaking clearer than before. It's also become a new stress to me, because I'm always afraid of forgetting a mask to my destination, " said Thomas.
Both teachers and students have put forth their creativity during quarantine to make homemade masks to both wear and sell to peers. Family and Consumer Science teacher Ashley Traughber spends her time creating masks to advertise and sell to people.
"In the beginning of the pandemic, I saw they were being recommended to wear if you had to go out in public. Disposable masks were in low supply, and I found making ones was an effective substitute. I started making them for my parents who are older and a couple of friends who were still having to work out of the home. Then masks were going to be mandatory in Jackson County, so I started making them for my husband since he works i
n Jackson County. I made one for my son who has chronic lung disease. My main goal was to protect my family and the ones I cared for, and it went from there. They became a very popular item in my small business," said Traughber.
Masks come in many different designs and shapes that people can wear to express their personalities. Students can be seen with different patterns and even phrases and statements to set them apart.
"I enjoy having a different mask to set me apart from the crowd. I like to have bright colors and different prints versus the plain paper or black mask. I also like to match my mask to my outfits," said Thomas.
With the increased usage of masks, many businesses have been selling face coverings to help stop the spread of COVID-19. Traughber has many different sizes and patterns she uses while selling to people in her small business.
"They are fun to make and see my masks around town. Masks help people protect themselves and others, so that makes me feel good to be able to provide people with a good product. I have people who contact me needing masks and quickly. It makes me feel good helping them to relieve stress caused by not being able to find them or spend an arm and leg to get them. They are very appreciative," said Traughber.
As students dive deeper into the school year, wearing masks will be important to keep on throughout the hallways and classrooms to help stop the spread of the virus. That does not stop students and teachers from having a creative and personalized mask to make them stand out and show off who they are.