Places To Go: Sky Zone
Skyzone is a big chain of trampoline parks which was founded in 2004 by Jeff Plat. The park is placed in a big building which consists of trampolines, a foam pit, dodgeball, and a rock wall. People of many ages go to jump and have a good time with each other. Skyzone has its own private rooms for people to reserve and host parties. For an hour of jumping, it costs around $20 and for unlimited jump time, would be around $25. They even have socks available for purchase everyone can use for jumping. However, while Skyzone does take walk-ins, they do recommend people reserve their jump times and do the waiver online since it can get and packed.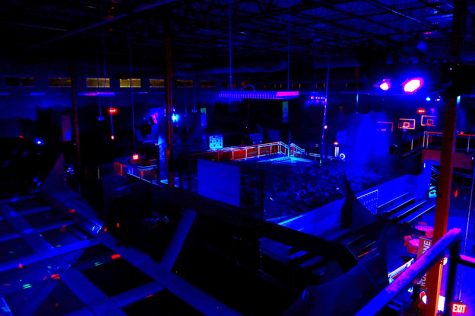 After dark, from 7:00pm to 12:00am, the regular lights get turned off and the neon and black lights get turned on for even more fun at night. At Skyzone they sell special t-shirts and socks for the event, so while bouncing you are glowing underneath the black lights and flashing neon lights. They start playing music more teens would enjoy, because around the time the event starts most kids and parents start leaving for the night and teenagers start pilling in.
Sometimes, the adults do not want to be mixed up with the toddlers and little kids running around the park, which is why some Skyzone have sections dedicated to toddlers and have a time for just the toddlers and little kids to jump around and play while the adults get a break. Skyzone also has music dedicated to the group range that is there at the time. It is clean and has a mix of everything so everyone can enjoy it.
Skyzone is the place to go to enjoy time with friends and family. For only a small price for hours of fun to jump and play on the attractions they have.