One sock after the other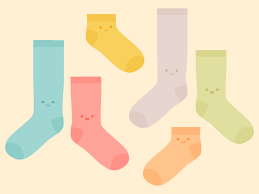 Marlon Williams, reporter
December 3, 2019
October brings a wave of new tides, from leaves falling from trees, to colder weather striking the school. In the high school there is a new fundraiser that bestowed itself upon the high school's students, socktober. Socktober is a newer fundraiser that was created this year, and advertised through the whole high school in an effort to raise money and provide clothing for those who may not have access to a supply of new clothing.
Socktober is a fundraiser that started around four years ago but hasn't been replicated since then. But this year Student Senate member junior Emma Gomez decided to bring it back.
" When I was in 8th grade our student senate put it on, and I didn't see anyone put it on in highschool so I wanted to try it out again and see how it would go," said Gomez.
Gomez recreated the socktober fundraiser from years ago to give back to the community, and those who are less fortunate.
"So basically I collected socks in order to benefit the community for people who cannot afford them, and donate them to heart in hand in belton. They are a non profit organization that gives back to the community. it's like a clothes pantry," said Gomez.
The fundraiser went well, and many students participated in helping the fundraiser grow. At the end of the fundraiser the amount of money raised and socks collected exceeded the initial goal. Senior student senate member Efren Rodriguez who wasn't directly involved watched the growth of the socktober fundraiser.
"Socktober is a project during the month of October that seeks out to collect socks and donate to people in need. I was not involved in donating for Socktober, but I will say that a lot of people donated. More than what was expected," said Rodriguez.
To raise awareness for the fundraiser boxes were placed around the school and posters and announcements were made to inform the students about all of the how to donate.
"I put out boxes in the offices and Mr.Moore's rooms and I put out announcements and fliers in order to spread the word and collect socks," said Gomez.
The fundraiser in the eyes of fellow student senate members and high school students went well. There were little changes that would have been made to the fundraiser.
"I think it went very well. The project exceeded its goal. One thing that could have been better was starting it sooner rather than a week or two into the month," said Rodriguez.
October was one spooky month that ended with a snow storm during the parent teacher conferences, plus an immense amount of money and socks donated to Heart and Hand. There will be more fundraisers similar to socktober in the coming future created by student senate and other organizations related to the highschool. Either way students can be proud of the success with the Socktober, and can look forward to more fundraisers coming soon.