Game, set, final match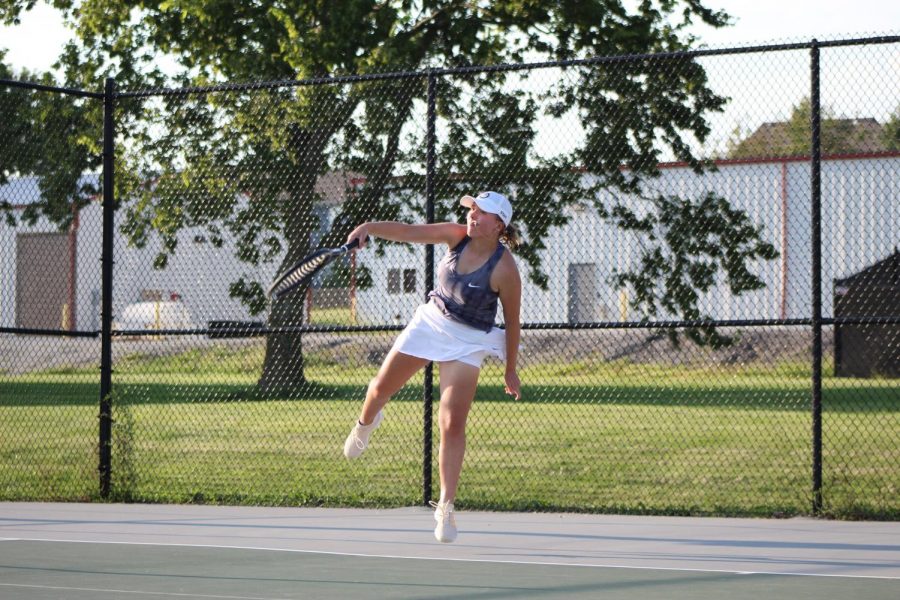 Kaylee Ohlson, Yearbook Photo Editor
October 1, 2019
The spin and clatter of the tennis racket breaks the silent atmosphere. The racket determines that the home team will serve. Senior Madelyn Zalewski and her doubles partner, Junior Bayley Raymond prepare for their match against tough opponents, the Grain Valley Eagles.
Zalewski is the only senior and 4-year returner for the girls' tennis team and is persistent to have a season that is similar or better to last year's. Listing off her previous accomplishments, Zalewski reminisces on past seasons,
"My freshman year I was JV 1 so I almost made varsity, but I didn't. Then sophomore year was my first year of varsity and I believe we won team districts that year. Junior year I went to state, so that was the biggest accomplishment ever. This year is to be determined," said Zalewski.
As the only senior on the team, Zalewski has taken up a leadership position to help guide her fellow teammates. Her coach, history teacher Derek Howard believes that she will be a great asset to the team on and off the court,
" As our only senior, Madelyn will be looked upon to provide leadership for a very young team, in terms of varsity experience. She's been a state qualifier in doubles, and part of two district championship teams. We look for her to have an amazing impact on our team, both on and off the court," said Howard.
During the past 2018 tennis season, Zalewski became close with the seniors of that year and became one of the "seniors" herself. Being bonded so close with them allowed Zalewski to learn more about the game than she could have on her own,
"When I first started playing, those girls were sophomores and juniors and they taught me everything I know. They taught me how to play, they taught me how to be part of a team, they taught me everything about tennis. They were my friends on and off the court and were always there for me," said Zalewski.
In an attempt to better herself and her team for this season's competitions, Zalewski provides advice to younger players about their upcoming opponents. Using her 3 previous years of experience, she is able to make game plans for her teammates,
"There have been teams that during my freshman year we could beat with our eyes closed, and now they give us a run for our money. I try to tell the girls everything I know about our opponents and what they like to do and what to be careful of, and what teams will give them sketchy calls," said Zalewski.
Her doubles partner, junior Bayley Raymond, has been playing as Zalewski's partner since the previous season, and enjoys playing beside her. Raymond feels that Zalewski has helped her increase her skill level and playing level,
"She's definitely made me a better tennis player because I had to go up to her level to play with her all the time," said Raymond.
By working together and becoming more confident in their skills, Zalewski feels that this season will be one of the best yet. She anticipates that after this year, there will be more returners than in the present,
"I think that there's going to be a lot of nerves and timidity, and once we get over that and get into the mid season we'll end up actually being really good. I just hope that next year there's going to be a lot of returning players and I hope that there's never a year again where there's only one four year player," said Zalewski.
Zalewski hopes her hard work and determination pay off in the long run and earn her another shot at state. For now, she continues to focus on the task at hand, making her final season her greatest.