Volleyball Senior Night
After four hard years of hard work, the seniors finally celebrated their successes with volleyball senior night on September 3rd. However, they were not able to keep the same traditions they have done in the past such as set up posters inside and have many family members be present, but they still found ways to celebrate their hard work.
Senior night is a tradition that many high school athletes get to experience, but due to COVID-19, those traditions have changed. Senior Delaney Taylor is grateful for a night dedicated to her hard work.
"Senior night is really just a celebration of playing volleyball. It's to remember all of the games, practices, and memories. It's a way to say goodbye to playing in high school and a chance to leave it all out on the court in front of your friends and family," said Delaney.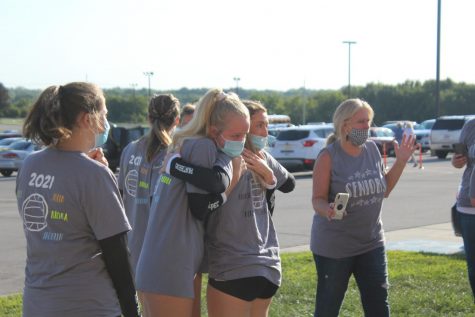 Even though the seniors were not able to experience what a normal senior night would have been, they still cherished the celebration the parents, staff, and underclassmen held for them. Goodie bags and a mini drive-by parade was used in order to celebrate their accomplishments. Senior Jacquelyn Elliott was surprised by the commitment of the parents and teammates to celebrating her senior night.
"I knew the parents were planning to have small tables set up for us outside the school with cards, and I knew that we were going to all be receiving fat-heads. However, I did not know that they planned a parade for us before the game. That was surprising and made us all feel very special to see everyone come together and plan something special for us," said Jacquelyn.
The expectations for senior night were low for many members of the team, knowing that it would not be the same as senior nights in the past. Taylor set her expectations low and hoped just to be able to play a game for her senior night.
"I didn't have too many expectations for senior night this year. I knew it was going to be different and that some of the people that I wanted to come wouldn't be able to. I was honestly just hoping that we would get to play a senior game at all," said Delaney.
Many of the seniors' parents helped in making a memorable night with what they had. Delaney Taylor's mother, Denise Taylor, describes the process the parents went through to make the night special for their daughters.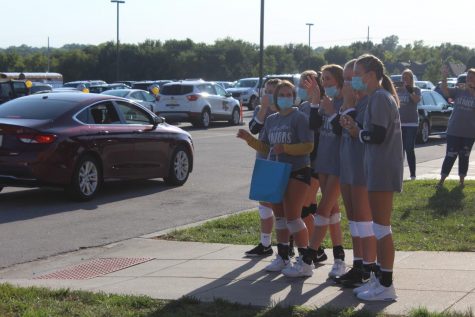 "The senior parents set up tables for each player outside the gym along the sidewalk. Each table had two player photos, a special flower arrangement inside a volleyball base (with the player's favorite flowers), personalized individually wrapped cookies and a basket for cards from friends and family. Players were surprised with their own "bighead" sign, a large yard signage display, a parade between the JV and Varsity games and car decorations," said Denise.
Creating something spectacular and memorable during a global pandemic was a challenge for the parents, but this was a night for the volleyball senior girls to remember. Jacquelyn Elliott's mother, Karen Elliott, explains the difference between this year's senior night and senior nights of the past.
"Senior night in the past seemed to be so much more fun and thrilling for the actual seniors and their families. The girls were able to dress up for school that day, be excited for their home game that night, truly decorate the gym, and be presented with a dance that had been practiced for several weeks by the rest of the volleyball teams — this was always fun and emotional for them because this was to be their special night for their last year," said Karen.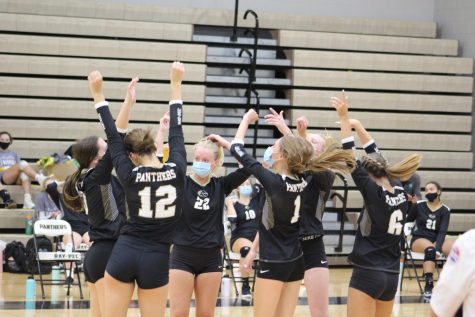 While COVID-19 has changed the circumstances of the volleyball team's senior night, parents, coaches, and teammates came together to try to make the night memorable for the seniors. While the seniors' chapter of high school volleyball is ending in a global pandemic, they made the most out of their accomplishments and achievements throughout their careers.