Ending with the new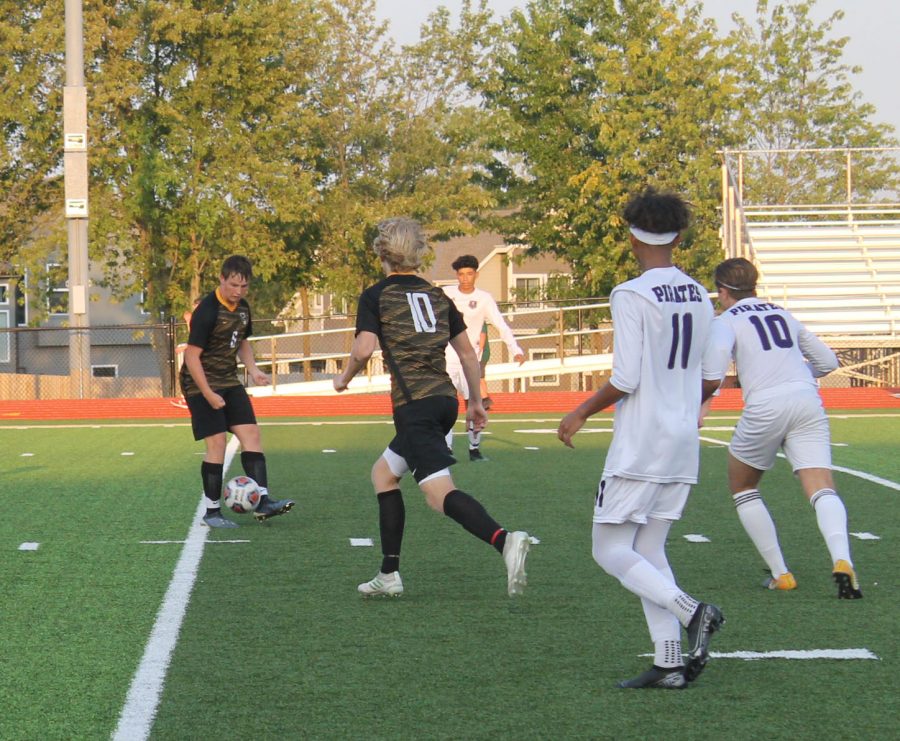 Seniors in sports this year are ending their high school career with the new. New equipment, coaches, and a new feel to their practices. The teams are changing, but are ready to start this school year with great seasons. Seniors Michah Baird, Will Burke, and Aaron Collinsworth are starting their season with change.
With being a senior there comes pressure, but especially in sports. Seniors are expected to help freshmen or new students in the sport. Collinsworth thinks seniors are important for playing a leadership role in the team.
"Responsibility and helping the younger kids is a new thing." said Collinsworth.
Baird says the team's on the turf this year are ready for their season and have become more motivated and excited by the change of scenery. This is a new start for teams like football and soccer, ready to aim big for their season.
"Yeah I feel like we are more energized with the field, it's just different. Everyone really likes it because it's a lot better than the last one." said Baird.
The football team practices on the fields everyday except on game days. Home games now have a different atmosphere at the newly renovated track and turf. The last time the track was completely redone was eleven years ago.
"The practice fields are really bad and really muddy all the time, and the turf is really nice. It's a lot nicer than the old one, and it looks better." said Baird.
Not only has the environment changed, the way the players can play their sport has changed. Collinsworth thinks the higher quality of field is beneficial for the athletes, often resulting in better plays.
"Just the way the ball moves and it's not as hard, makes games easier. It's mostly the same but there is a lot of extra cushion and we got new nets which is nice." said Collinsworth.
The upperclassmen and recent graduates have gone through their highschool career with the old, worn down track and turf. Freshmen this school year and in future years will enjoy an improved practice and game space. Baird think this will be beneficial to the new students.
"I think it'll be good [for the freshman] because they will go through all their years with it [new turf] and become better with it." said Baird.
As well as getting new equipment, boys and girls swim is going through a big transition changing coaches. Spanish teacher Coach Hall, the boys swim coach left the district, which leaves psychology and history teacher Coach Brown for the new boys coach position. The new girls swim coach is french teacher Coach Parisi.
"The atmosphere has changed. It's a lot more team based because there are a lot of people this year. So we have the upperclassmen helping underclassmen with strokes they might not know cause we have a lot of people this year." said Burke.
Changing coaches can be very stressful and difficult because each coach has a specific teaching style. Burke thinks it will take time to get the hang of it, but they are determined to have a good season and help new swimmers.
"There is a bit of strangeness, the way they do it is very different. Coach Hall works on sprints and distance, Coach Brown works on form." said Burke.
New this season as well, is the many people now joining the swim team. The upperclassman are mentors for the incoming swimmers, and the team and coaches are excited to have lots of new students joining. Practice is also being moved from Harrisonville to the Belton Community Center.
"Practices are a bit different, there are a lot more people so we have to split up practices. So far we are pretty excited, we have the largest team we've ever had in a long while." said Burke.
While seniors in sports have gone their whole highschool career with the same equipment and coaches, students new to the sport are starting off with a new and improved environment. Seniors are excited for this change, even if it will take time to get used to.