Act Like You Own It
Mr. Schnake talks about his influence on the theater department
Hang on for a minute...we're trying to find some more stories you might like.
For the past 20 years, the theatre department has had a role model, a coach, and a friend all tied into the form of a teacher. This man has directed over one hundred shows in his time in the school district, and has lead his students to over 10 state championships in his time. Students have been influenced by his wisdom, his philosophies, and by his overwhelming track record. This man, is Todd Schnake.
Senior Cameron Perry has gone into the field of theatre with his mentor by his side.
"If it weren't for Schnake, I probably wouldn't be going to college in the field I'm going in. He has really shaped my next four years, and my whole future. Which is a big impact to have on someone, to change their life and give them a whole new outlook on what to do," said Perry.
When Perry first began his theatrical career as a freshman, he was intimidated by Schnake. All Perry wanted to do is prove himself to the theatre department.
"He was a scary dude. Not in a way of like he was mean or anything, but he was just intimidating because you really wanted him to like you. And you really wanted him make him proud of what you were doing," said Perry.
With theatre being so versatile, the director has to be flexible in his productions. Schnake does not only direct plays, but he has also done musicals as well.
Senior Ian Fleming has also been influenced by Schnake's work as a musical director.
"He has done so much for me. Schnake has been like a father to me these last four years, and he has done everything he could possibly do for me. He has been the reason I am going into musical theatre, and his influence and his ability to enhance me as an actor. He has really gave me a new perspective on how I am as a man, and as a person," said Fleming.
In order to become a great role model, you first have to begin with relating to the students. Schnake has learned the basics, and has mastered this skill.
"My goal as a teacher is to help the students find the best version of themselves. I try to set a good example of how working hard and being committed about whatever it is you do, can lead to a full life. I try to give my students the skills that will make them become successful in whatever it is they choose to pursue later in life," said Schnake.
Ian Fleming has a really good idea on how Schnake does not pressure you into doing a specific thing. Fleming learned that Schnake is supportive in anything you want to do with the students life.
"The nice thing about Schanke is that he doesn't pressure you into anything. He will never promote a college either way, but he makes sure that you look after it and you know what their program is like. He will make sure you have all checks marked and encourage you and that you know what you're getting into. He is always super supportive," said Fleming.
Getting to perform in front of two thousand people was not only a big accomplishment to Cameron Perry, but Schnake also believes this is true as well.
"For this particular group, you would have to look at the success we had taking, 'Much Ado About Nothing,' to the State Thespian Festival. We have accomplished a lot of things that this group has been a part of, like several state championships, many national qualifiers, but Much Ado was invited to perform at the international thespian festival. That in itself is a huge accomplishment. Only ten schools in the nation are chosen to perform," said Schnake.
After all of the state championships, the state thespian festivals, or the six hour rehearsals, Schnake has put in a lot of time and effort into students lives. To help them to become successful in their craft, the students are forever grateful for all of the work Schnake has put in for the theatre department.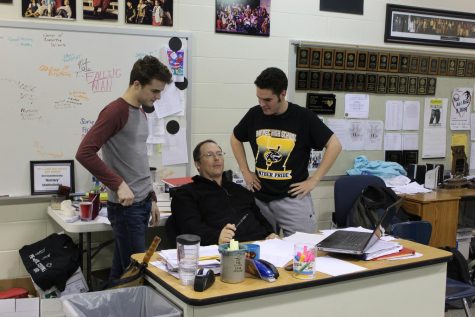 Noah Lampson