Counselors Aiding Students
 The high school counseling staff is helping many students prepare and make sure they are taking the right classes to better help those who are hoping to get into a university. The counseling department has helped students by giving them useful tips, information, and sources to help better their chances of getting into the university of their choice.
Counselor Cheryl Gray has been working with students every day to make sure they are making the right decisions when it comes to their future.
¨One thing that will help students get into a university is by making sure you have a nice curriculum. Most seniors want to make their senior year easy, but you still need to keep up the rigorous curriculum,¨ said Gray.
Having a strong foundation of curriculum is important, but also taking AP or IB classes in high school will increase your chances of getting accepted into a university.
¨There are no specific AP or IB classes students should take, all AP or IB classes will help your chances of getting in,¨ said Gray.
Senior Samantha Williams has got accepted into multiple universities.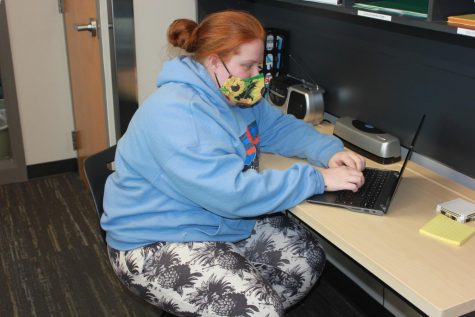 ¨Throughout high school I have applied hard work, self discipline, and I have believed in myself,¨said Williams.
Many students go through high school not knowing what classes will benefit them in the long run, or increase their academic future in a university or in everyday life.
¨Classes that are important are dual credit personal finance, college math classes, and speech¨. said Williams.
Students believe that their behavior in school will not affect their chances of getting into a university. Behavior is a huge factor, because behavior on a transcript can be passed down to each university a student applies to.
Senior English Teacher, Sarah Renfrow, has seen many students with great behavior that have achieved great things in life.
¨Successful students have a drive to learn, willingness to make mistakes, the courage to work to communicate with classmates and instructors, and have an open mind,¨ said Renfrow.
There are a great number of things that students do in high school affect their chances of getting into a university, and students usually do not realize the impact their actions can have on their future success.
¨I think every action varies for each student in general, it's working towards their goals–in and out of school, and communicating what they've done toward those goals in a clear way, these actions will give them success,¨ said Renfrow.
The majority of students have a hard time selecting the college they want to attend. Many students have a hard time because they do not know what resources to use or how to go about choosing the right university for their everyday lifestyle.
¨It is important to research the university and take a tour, this will help you get a feel for the campus, and what it has to offer,¨ said Williams.
Gray believes it is an important step to apply early to universities. If a student waits too long, they might lose their spot, or not have another university to fall back on.
¨There are so many choices and research to be done. When you apply early you have more confidence in your choice. Usually students need to start applying their junior year,¨ said Gray.
One factor that determines what university a student can get accepted into is GPA. It is a big factor, because it calculates students' grades together, allowing universities to see how that student can manage school and their outside life.
¨GPA is important depending on universities you want to attend. Some colleges want higher GPAs than others. A higher GPA means more money for universities,¨ said Gray.
If students have good skills and habits, they will go far in life. Students should apply what they have learned throughout their academic career, and apply it to their everyday lives to be successful in a university.
¨If students listen, not be afraid to ask clarifying questions, surround themselves with people who care about them and support them, support the people around them, and try not to be afraid of failure. Work to recognize your own value and the value of the people around you. Doors will keep opening as long as you keep turning the handles–you can't stop after the first locked door,¨said Renfrow.
With the second semester underway, the counseling staff have been working endlessly to help students navigate their post high school plans. Though not all students are graduating this year, the counselors believe that every student can begin preparing for their life after graduation, whether that be by taking advanced classes or exploring other work options.With this great knowledge, students can achieve great things in life, and explore their passions in life.