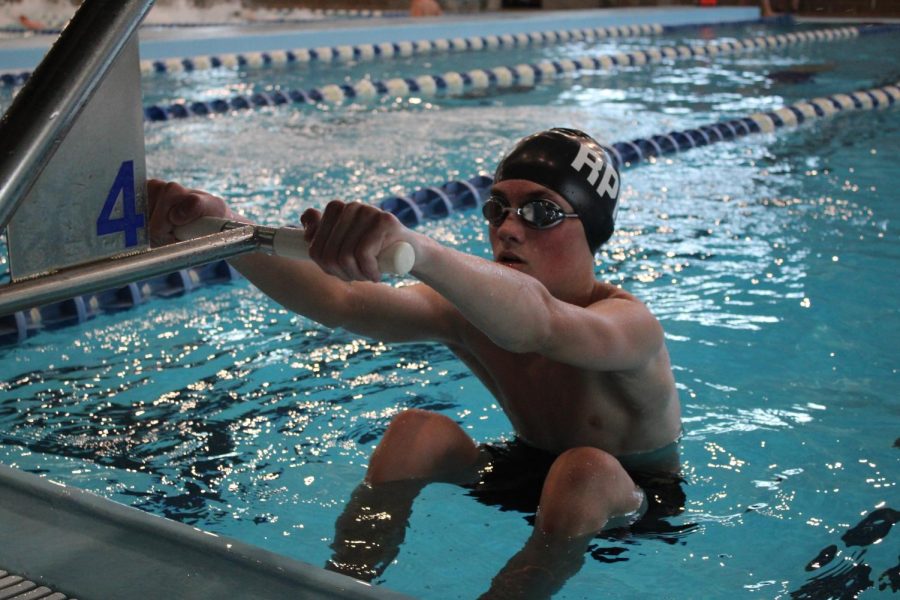 The boys' swim team consists of swimmers who have great relationships with each other from all grade levels. The swimmers have different routines for practices and meets.
The swimmers all have a great relationship with each other because of their sport. The team is a very small team and only consists of ten-ish swimmers, which Senior swimmer Weston Burke thinks is better for building relationships personally.
"It's really fun having a kind of small team, a family, unlike bigger teams where you can't really know everyone," Burke said.
There are many different things the swimmers practice. Including different strokes and practicing maintaining a good breathing pattern.
"We usually do around 50,000 yards total, and will be split up in different sets, usually a set would have 200 yards four times with different variations of strokes," Burke said.
Assistant coach Doug Brown has certain jobs he helps with at practice.
"Mostly just work with jv, stroke mechanics, I'm comical relief," Brown said.
During their seasons they learn how to become better swimmers, and how to become better teammates. Learning these new skills make them become better athletes, including freshman Connor Patterson.
"Probably breathing, I used to struggle with it because I wasn't as conditioned," Patterson said.
During meets swimmers usually do around three events, one of those being a relay. Different swimmers have different routines for getting ready for their events.
"Kind of just sit around until it's my turn to do my race, after my race I do a cooldown depending on if there's a cooldown pool," Patterson said.
During these meets and practices they make lot's and lots of memories together. They balance practicing their skills and joking around and having fun.
"We did a 50 IM. It was pretty funny because this kid on varsity said he'd do good and he got a cramp right as he started," Patterson said.
Doug Brown also has a very good relationship with the swimmers. He enjoys connecting with the swimmers as well as coaching them.
"Building relationships with athletes outside of the classroom," Brown said.
The boys swim team has great relationships with each other and enjoy their time with each other. They become better teammates and swimmers from their sport.
"Join swimming, we need more people!" Burke said.