Train to Reign: Royals look to get a world series championship back to the Metro
Hang on for a minute...we're trying to find some more stories you might like.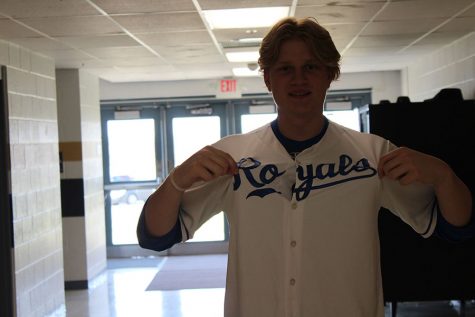 Spring training. A time where old faces seek a new beginning, and the new faces are looking back at their old teams in graditude.As the wheels of the 2017 baseball season begin to turn, the Kansas City Royals are looking at the tough road ahead of them. With all of the fresh faces on the diamond, it will be a more than just a change in not only the play, but the chemistry between the players.
Many think that the new pick ups will make a significant impact on the team's performance. Junior Ben Larsen likes the way the clubhouse is shaping up to be.
"I really like the Jorge Soler pickup. With Alex Gordon getting close to retirement, I think he would be a great addition to the outfield. He also brings a lot of speed to the bases as well," said Larsen.
Larsen also plays JV baseball and takes notes on what some players are doing with their work and translates it to his play on the diamond.
"The way that I hit and I field is a lot like Mike Moustakas. I bat lefty and I throw right handed just like Moustakas," said Larsen.
Before the Royals made the postseason in 2014, most people looked at the Royals as a joke. Theatre teacher Todd Schnake saw another view point of this up and coming baseball team. Schnake has been a big fan before many were even born.
"I have been a Royals fan since I was a little kid. I believe the 1976 season is when I began watching this team," said Schnake.
Schnake also is optimistic about the Royals postseason hopes this year. He believes some players need to step up to the plate and swing for the fences.
"This years team still has most of the core guys that we have had in years past, but we still have some players we need to step up into the player they thought they could be, Hosmer has nice numbers, but he's not a particularly impressive first basemen, Salvador Perez needs to not wear down in the second half of the season, and the new pitchers need to step up and do what they were called to do," said Schnake.
If Kansas City wants a championship parade to come back to Union Station once again, then changes need to come fast. Larsen believes that those can and will come before opening day.
"We need to make plays, and play a lot of small ball on the field. Last year we didn't play Royals baseball, and it didn't work as planned. We need to come back to our roots, and play our way," said Larsen.
With all of the injuries plaguing last season, a lot of players are coming off of surgeries and rehab. Junior Jake Sargert has one player in mind that will have a bounce back season.
"Alex Gordon's legs are getting older. When he went down in 2015, that really hurt the team. I think he has to prove himself this year, with newcomers trying to take left field from him," said Sargert.
With spring training under way, the Royals clubhouse is planning out their season by giving their prospects a chance to prove themselves on the diamond. While it will be a tough war to be won, there will be a "reign storm," in November. Kansas City will be as blue as it was two years ago.