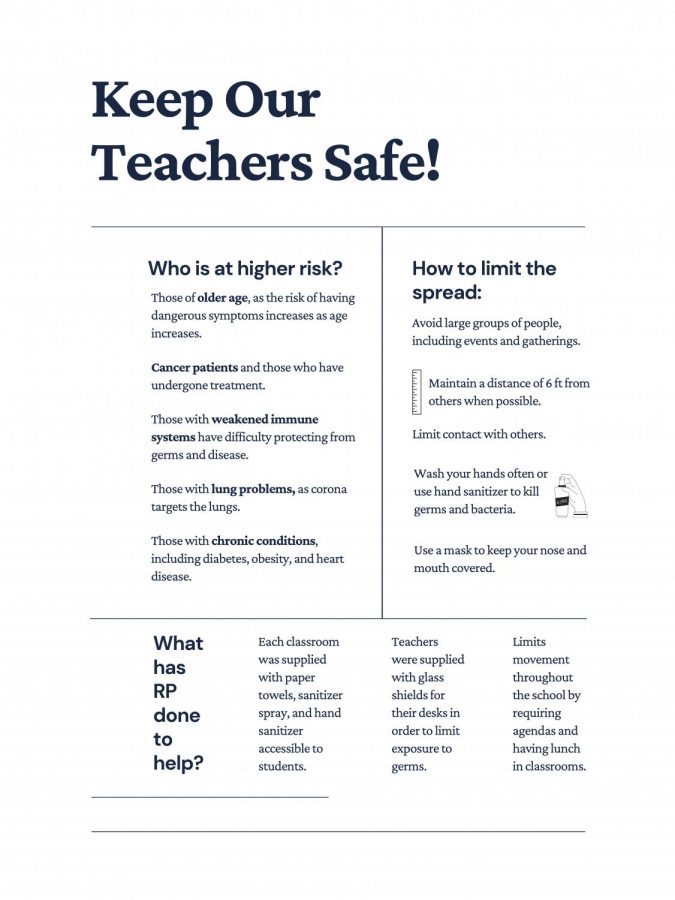 Following the extended summer break that took place after COVID-19, the choice to go back to school in the fall was not as simple for teachers as it had once been. Those who were at higher risk for contracting COVID-19 had a new issue to address when deciding to attend school again.
Spanish teacher, Heidi Lanksbury, is at higher risk due to an autoimmune disease, but she had a strong attachment to the school that persuaded her to go back.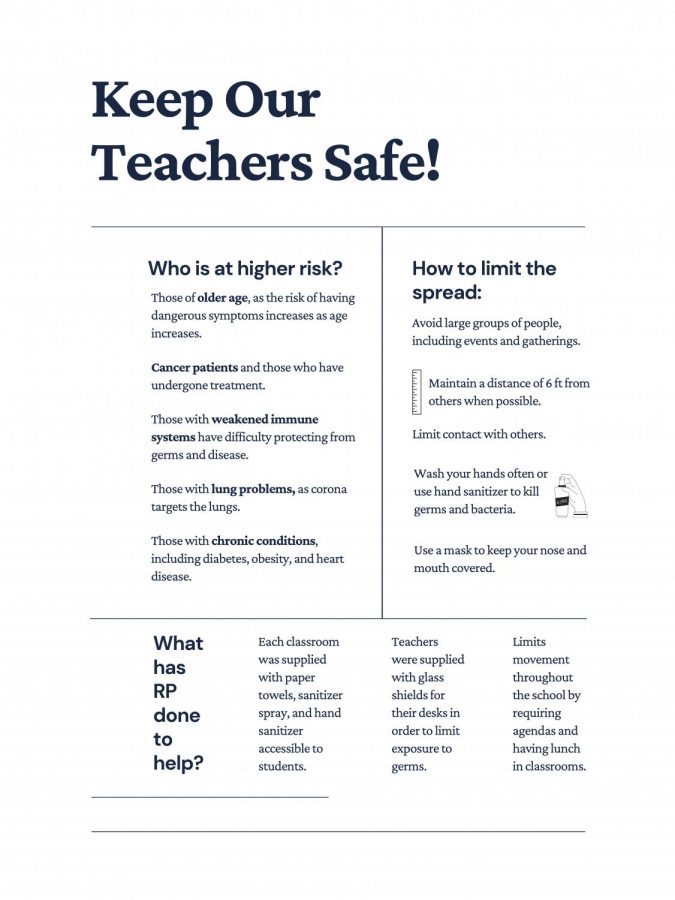 "I chose to attend school because honestly, the other option was to leave Ray-Pec. I love it here, and I need a job to support my family. I was fairly certain that I would not be chosen to do virtual because I teach upper level classes," said Lanksbury.
Freshman biology teacher, Megan Chikuru, was also influenced by her love for the school and her students. Chikuru has a compromised immune system due to her being diagnosed with cancer in 2017. When Chikuru received chemotherapy and radiation, her immune system "died," and while she was worried about contracting COVID, she returned to school nonetheless.
"To be honest, I didn't really have a choice. I definitely missed being around my kids, and I am happy to be back, but I am worried about if I get COVID-19, how that will affect my life," said Chikuru.
In order for Chikuru to feel comfortable and safe at school, she paid special attention to gui
delines that were intended to lower the spread of the virus. While she is taking precautions, she has still noticed changes to her body since COVID-19.
"My life hasn't changed too much, except that I am a little more paranoid about keeping my classroom clean and social distancing. I can tell my body is more fatigued than it has been in previous years. I have been sanitizing my hands after working with each student, cleaning desks in between classes, wearing a mask, and social distancing the best I can," said Chikuru.
Fellow biology teacher, Kourtney Thompson, makes sure to pay extra attention to the guidelines set forth by the CDC in order to ensure Chikuru's safety, including social distancing, using hand sanitizer, and wearing masks. These guidelines were the biggest change to their relationship and interaction with one another.
"With volleyball, we spend about 10 hours a day together. We rely on each other to get through the day so
not much has changed from pre-COVID until now, just that we have to interact from a distance," said Thompson.
While Thompson makes sure to put extra care towards Chikuru, she is not the only one doing her best to keep the teachers safe.
"Teachers and administration have been amazing at working with teachers. Teachers have helped so much by watching my class when I need a break and helping me out when I need it," said Chikuru.
Despite all the precautions taken by the teachers and administrators, there is still a risk of the teachers contracting COVID. However, Lanksbury notices the compliance of members of the district and appreciates the efforts taken by them.
"It is scary, but I can't live my life in fear. I was really anxious before we came back, but being here has been great. I have been super impressed with how well all the kids are at wearing the masks, I have no complaints at all. The district has handled this with a great amount of detail and planning to keep us all safe," said Lanksbury.
The risks and many safety precautions are worth it to Chikuru in order for her to continue to teach. Thompson admires how strong Chikuru is when it comes to dealing with her situation.
"She has so many challenges in her life, and she continues to be a positive role model for everyone around her. She loves teaching and she won't let anything, including COVID, stand in the way of that," said Thompson.
The teachers who are at higher risk are taking guidelines seriously in order to lower the chances of them contracting COVID-19. The help of students and administration allows the teachers to feel more comfortable and safer in the school environment.