Music Classes Move Outside
With the school district's decision to return to in-person teaching amid the COVID-19 pandemic, there have been many changes to the typical school day. For members of band and choir classes, this includes having class outside under tents to prevent the spread of the disease.
As teachers and administrators prepared to go back to school, choir teacher Stephen Rew knew he would have to adjust his classes to accommodate the situation. Rew educated himself on the relation between singing and the spread of disease to fully understand the precautions he needed to implement in his classes.
"There have been several major studies about singing safely and COVID-19. We have been following those guidelines. Singing produces aerosols, and aerosols are what spread the virus from person to person. In an outdoor setting, the risks are mitigated because the aerosols are dispersed," said Rew.
Senior choir student Payton Ballinger was surprised when she first heard choir would be practicing outside. While she was disappointed at first, she tries to focus on the positives of this situation.
"At first I laughed to be honest; I never thought I would be in a situation where it would be against health regulations and school guidelines to sing. I was pretty disappointed because I knew that choir wouldn't be the same and that we wouldn't be able to have everyone together, but I know it will be a good learning experience," said Ballinger.
These restrictions not only affect choir classes, they also affect members of band classes. Unlike Ballinger, who was surprised at the news that choir would be practicing outside, junior band student Karter Jones is apathetic to outside classes.
"I didn't really care that much about practicing outside. The first thing I thought about when we were told about it was the weather. But I know that when it gets cold, rainy, or too windy, that we just practice inside. It's a little weird, but I guess we make it work," said Jones.
While choir practices are outside, they typically spend the beginning of the class period inside before moving out to the tent.
"We start in class everyday with items that don't include singing like sight reading, then we transition to the tent for the remainder of the class. I try to leave the tent three minutes prior to the bell, but I am often unsuccessful," said Rew.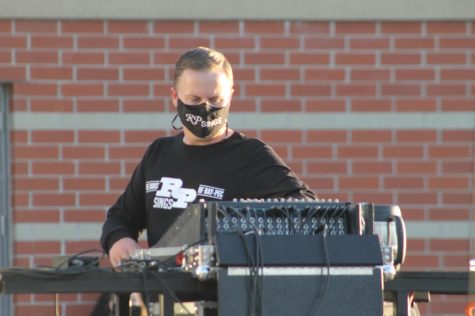 The choir and band classes are trying to adjust to this unprecedented situation to the best of their abilities, but Ballinger has noticed the outside classes combined with the split day schedule has affected the class dynamics.
"Only having half of each choir to rehearse with has made the team dynamic very hard to contend with. It's like trying to take two separate varsity teams and have them play as one for a game, or in our case a concert. There's a disconnect," said Ballinger.
While there are disadvantages to having class outside, Rew enjoys the change from the typical class inside the building.
"I personally enjoy the change of scenery throughout the day. I think students are also having to sing out more to be heard, which I think will help their vocal development. We also can sing safely and that is a huge thing. Many schools are not singing at all, so I feel fortunate to have the opportunity to do what we love," said Rew.
For band students, they have to take more precautions than just practicing outside. They also wear special masks that allow them to play their instruments.
"I think a lot of people would find it surprising that we have a specific mask we use to play. Instead of just taking off our masks, we were all given a new kind of mask that we can play through. I think we were more prepared than most people would think. Everyone also has a bell cover so the air coming out of our instruments doesn't spread germs and other things like that," said Jones.
Although band and choir students have had to adjust to practicing outside under tents, Ballinger knows she is lucky to be able to sing at all.
"I think singing in an outdoor location was the easiest solution and the most realistic with our school layout. I am not a fan of the tent, but I am so incredibly thankful that we have the opportunity to make music even during a pandemic," said Ballinger.