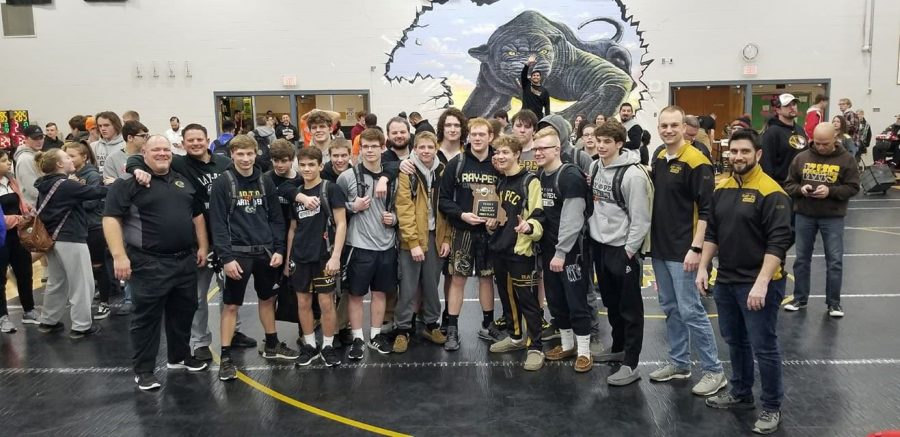 The boys won district championship and qualified 9 individual boys to state following the Class 4, District 3, wrestling tournament on Feb. 8-9.
Two boys were district champions:
Senior Zach Brown in the 132-lb weight class
Senior Clint Herrick in the 182-pound weight class.
Four boys were district runners-up:
•    Freshman Kanen Huff-138 District Runner-Up
•    Senior Gary Hogan-170 District Runner-Up
•    Senior Shane Martin-195 District Runner-Up
•    Sophomore Tyson King-285 District Runner-Up
Three boys placed 4th in their weight classes to also qualify for state:
•    Senior Coleton Cahill-126 4th Place
•    Junior Charles Adams-160 4th Place
•    Sophomore Ethan George-220 4th Place
Ray-Pec won the tournament with 182.5 points. Second place went to Carthage with 166 points.
Two girls advanced to the girls wrestling state tournament following District 3 competition Feb. 1-2 in Nixa. This is the first year for the Missouri State High School Activities Association to have a separate wrestling division for girls.
Sophomore Shelby Patterson placed 3rd in the 103-pound weight class, and Tatum Westendorf placed 3rd in the 131-pound weight class to advance. 
The state wrestling tournament is Feb. 14-16 at Mizzou Arena. The finals will take place starting at 4:30 p.m. on Saturday, Feb. 16. The mats for the final will be set up with two boys' mats side-by-side on each end with the girls championship mat being set up in the center Mizzou Arena.